When to Watch
Tucson
PBS 6 - Fridays, 8:30 p.m.; Sundays, 11:00 a.m.
Phoenix
Eight World, Phoenix - Fridays, 7:30 p.m.
About the Host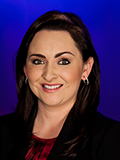 Lorraine Rivera
Producer and Host, Arizona Week
Rivera is a veteran broadcaster having worked in the Yuma and Tucson television markets for the last decade. She is a graduate of the University of Arizona School of Journalism with minors in English and Mexican-American Studies, and enjoys cheering on her beloved Wildcats. Rivera is product of Cochise County, born and bred along the U.S./Mexico border in Douglas. She is thrilled to have the opportunity to continue serving as a journalist in her home state.