Featured Experts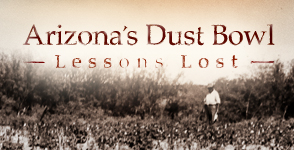 Tom Swetnam
Director, Laboratory of Tree-ring Research
University of Arizona
Swetnam was hired as an assistant professor at the Tree Ring Laboratory in 1988, and has led the lab since 2000. He uses dendrochronology (the study of tree-rings) to reconstruct the histories of fire, insect outbreaks, human land uses, and climate.
Thomas E. Sheridan
Anthropologist
University of Arizona
Sheridan grew up in Phoenix in the 1950's and early 1960s. At the University of Arizona he holds appointments at the Southwest Center and as professor of anthropology. He is the author of the recently updated Arizona: A History and many others books about the history of the Southwest.
Manley Alan Begay, Jr.
Social Scientist, American Indian Studies
University of Arizona
Begay is a senior lecturer in the American Indian Studies Program at the University of Arizona. He is also the co-director of the Harvard Project on American Indian Economic Development.
Betsy Fahlman
Professor of Art History
Arizona State University
Fahlman began teaching at Arizona State University in 1988. In addition to her appointment at ASU, Fahlman is the author of two books including New Deal Art in Arizona and has a keen interest in public art.

Eric A. Betterton
Head, Department of Atmospheric Sciences
University of Arizona
Betterton, born and raised in Zimbabwe, is an award-winning teacher at the University of Arizona where he joined the faculty in 1988. He specializes in research on dust and air pollution.
Juan R. Garcia
Professor of History
University of Arizona
Garcia joined the faculty at the University of Arizona in 1981 and is author of Mexicans in the Midwest, 1900-1932 published in 2004.
Jeffrey C. Silvertooth
Agronomist, Agriculture and Life Sciences
University of Arizona
Silvertooth was born in Oklahoma and came to the University of Arizona in 1987. He studies soil/plant interactions and is a specialist on cotton.
Tom Kleespie
Producer/ Director/Writer
Kleespie is the senior producer of special projects at Arizona Public Media. He traveled the deserts of the world for 19 seasons for his work on The Desert Speaks, airing on over 300 PBS stations nationally. Kleespie also produced Together We Heal, Unforgettable: The Korean War, Barrios and Barriers, Phoenix Mars Mission: Ashes to Ice and the follow-up program, Phoenix Mars Mission: Onto to Ice, Southwestern Gems: Our Desert National Parks, and the Tucson Remembers series, which included Tucson Remembers: The War Years, Tucson Remembers: The Battle for Europe, and Tucson Remembers: War in the Pacific and A Show of Courage.