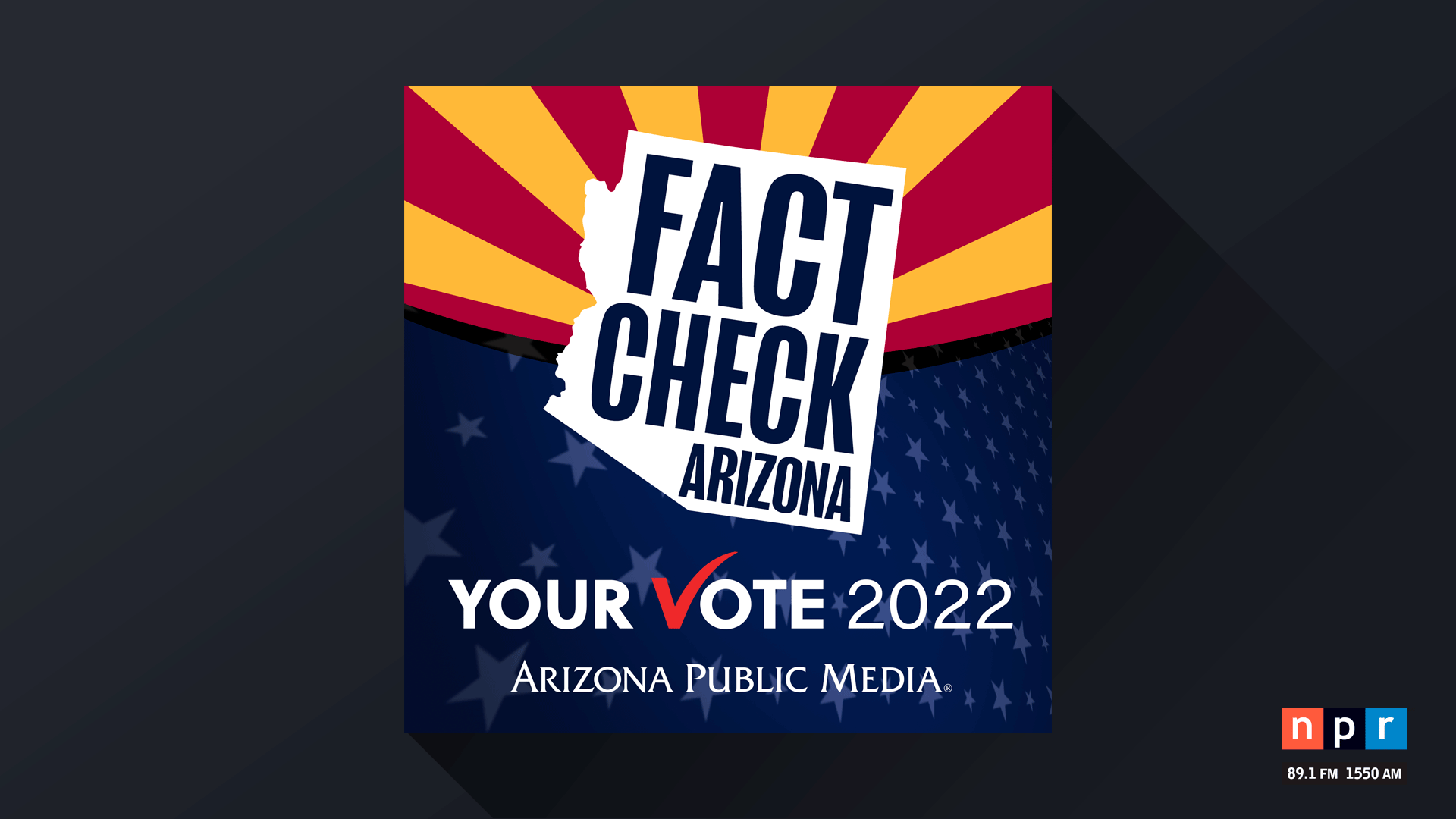 The Fact Check Arizona podcast will cover the 2022 Arizona election season.
AZPM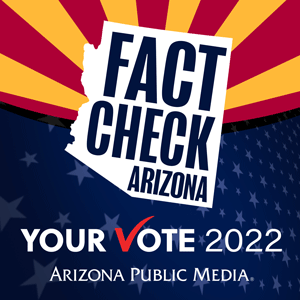 When incumbent Democrat Kathy Hoffman and her Republican challenger Tom Horne sat down for a debate on Arizona PBS' TV show Arizona Horizon, both spent much of the show on the attack.
The claims were not new either. Hoffman's campaign has made a point of associating Horne with former legislator David Stringer on numerous occasions on social media.
Horne has done the same when it comes to Hoffman's inclusion of a link to the website Q Chat Space on the Arizona Department of Education's webpage with resources for LGBTQ+ students, educators, and families.
During the course of the debate, Horne was the first to level one of these accusations against Hoffman.
"I'm not alleging that it's intentional, but I think it's very harmful," he said. "I stand for empowering parents. Q Chat stands for Queer Chat, believe it or not, and it's on the official Department of Education website. Kids can go on there without their parents' permission, they give detailed information about themselves, they give detailed information about their sex lives or sexual thoughts, and then they talk to Q Chatters who are volunteers from around the country who are not licensed professionals."
Q Chat Space is run by CenterLink, a nonprofit made up of local LGBTQ centers and organizations.
AZPM made multiple requests for an interview or information from Q Chat Space and CenterLink, but did not receive a reply. The information presented about the organization itself comes from its website.
Q Chat Space is designed to give LGBTQ young people ages 13-19 a supportive place to gather information and seek answers to questions they may have.
The site's facilitators, also known as q chatters, are volunteers who are often linked to various youth LGBTQ centers around the country, though the website does allow anyone to apply to become a facilitator. Chats on Q Chat are done in groups and offered at scheduled time.
In response to Horne's mention of Q Chat, Hoffman mentioned that the Arizona Department of Education is not the only government site that lists Q Chat Space as a resource for LGBTQ youth.
"Q Chat is recommended by the CDC and the national organization Mental Health for America as a resource for helping to support our LGBTQ youth."
The Centers for Disease Control and Prevention does list Q Chat on its page for "LGBT Youth Resources."

The use of Q Chat and other such resources for LGBTQ youth have been researched, including a study published in June 2021 in Prevention Science, the official journal of the Society for Prevention Research that said, "Results suggest that this preventive intervention format offers promising strategies to address the risk factors implicated in LGBTQ youth health and wellbeing."
Horne further argued that he was opposed to the use of Q Chat because of certain issues with whom it puts children in touch with or whom it could put them in touch with unintentionally.
"They talk to Queer Chatters that are not licensed professionals. We don't know how many of them might be predators," he said. "If that website is ever hacked, we know it will be sold on the dark web to predators there. Parents have no role to play. In fact, there's an escape button so that if a parent comes and they start to see what's on the computer, the kid can push the escape button."
Again, AZPM was unable to contact Q Chat Space or CenterLink for details on its vetting process. But a spot on the Q Chat Space webpage that allows people to apply to become a volunteer does not mention any licensure as a requirement. It does say that an orientation process is required, though the amount is not mentioned.
The escape button mentioned by Horne exists on all pages of the Q Chat Space website and redirects to the Google homepage.
The sign-up process does require some basic information: birth date, some inexact location information (country, state/province and ZIP code), race/ethnicity, and some agree/disagree statements about sexual orientation and gender identity.
"They should talk with trained, licensed counselors in the schools," Horne said. "I'm in favor of a counselor in every school, but this is, I think, outrageous to have the parents not play any role. They don't know the kids are engaging in this Q Chat with adults."
It is of note that Horne held the office of Superintendent of Public Instruction from 2003-2011. According to data from the National Center for Education Statistics the number of counselors in schools stayed basically flat in those years at around 1,250, equating to fewer than two counselors per school district.
In the 10 years since, school counselors in Arizona public schools have increased by nearly 300, with a large increase in the past few years due in large part to the use of federal COVID relief dollars to fund positions.
Despite the additions, as of 2021, Arizona remains the state with the highest student-to-school counselor ratio at 716-1.
After this exchange regarding Q Chat Space, Hoffman changed the subject to her frequent attack point, Horne's link to a disgraced former legislator.
"What I think is more deeply concerning to Arizonans is that Mr. Horne has been soliciting work from David Stringer on his campaign, and we know from David Stringer's record that he publicly made racist comments about Arizona children along with his history of being accused of paying minors for sex, so it's deeply disturbing for Arizonans."
David Stringer is a Prescott-area lawyer who resigned from the state house in March 2019.
Stringer's resignation came after a series of articles from Phoenix New Times, the first of which contained audio of Stringer making racist statements at an event on Arizona State University campus and the second detailed expunged court records from the early 1980s in Maryland that showed he had accepted a plea deal on sex offenses involving minors.
Hoffman's campaign Twitter account has pinned an August 29 tweet highlighting reports on this topic for weeks.
During the debate, Horne said the only association between his campaign and Stringer was an in-kind contribution that was ultimately returned. He also corrected one of the debate's moderators to say that a since-deleted tweet from Horne's campaign account thanking Stringer for his effort did not show the two together.
"It was not a photograph of me with him. It was a photograph of him with some signs that were put up. That was a part of his contribution in kind, but he is not part of my campaign. My campaign is based in Phoenix, and he's a lawyer based in Prescott. His only association with the campaign was that he made a contribution in kind, which I ultimately returned, and that is it."
Hoffman has used the term "soliciting work from" during the debate and has tweeted that Stringer "worked on (Horne's) campaign" multiple times.
But Stringer does not appear as a staffer or contractor on any of the campaign finance forms he has filed with the Secretary of State. His lone appearance is as a contributor who made a $1,400 in-kind donation.
Tom Horne's 2022 Q2 campaign finance report

View at Google Docs
|

Download File
Horne confirmed to AZPM in an email that Stringer's contribution was to pay someone to put up Horne's campaign signs, and that he has since sent Stringer a check for that amount.
In order for the expense to show up as an in-kind contribution, though, there would need to be some level of coordination between the two. If Stringer had done this independently, campaign finance rules would call it an independent expenditure.
Horne has also defended Stringer since the donation came to light, saying to Phoenix's 3TV, "He's completely innocent of the charges against him. Believe me, if he had done what he was accused of, he would have been disbarred."
Another allegation made multiple times by Horne during the debate was to mention the notable difference between standardized test scores during his tenure and Hoffman's term.
"When I completed 8 years, the first time I was superintendent, Arizona proficiency rates were over 60% for math and over 70% for reading," he said in one such instance. "Under Kathy Hoffman, even before COVID, those rates were 42% and 42%. A great drop."
Horne did accurately quote his scores. Standardized test scores from the spring of 2019, at which time Hoffman had been in office for no more than four months, had proficiency scores of 42% in both math and reading.
Standardized test scores taken in the spring of 2011, months after Horne completed his second term, were a proficiency rate of almost 62% for math and over 77% for reading.
Those scores continued to rise until 2015, when Arizona switch standardized tests
Students who took a standardized test during Horne's years took the Arizona's Instrument to Measure Standards.
The state abandoned AIMS in 2014 in favor of the Arizona's Measurement of Educational Readiness to Inform Teaching test, or AzMERIT.
Scores from the last year of AIMS were 63% math proficiency and 78% reading. However, in the first year of AzMERIT, the scores dropped to 34% and 35%. Scores continued to rise through 2019.
No standardized tests were taken in the Spring of 2020 due to the COVID-19 pandemic. Arizona's standardized test scores dropped notably in 2021, as did most scores around the country, but rose in 2022.
Arizona will again switch tests in 2023.
MORE:
Arizona
,
Education
,
Election 2022
,
Elections - Arizona
,
Fact Check Arizona
,
Government
,
Kids
,
LGBT
,
News
,
Politics
,
U.S.