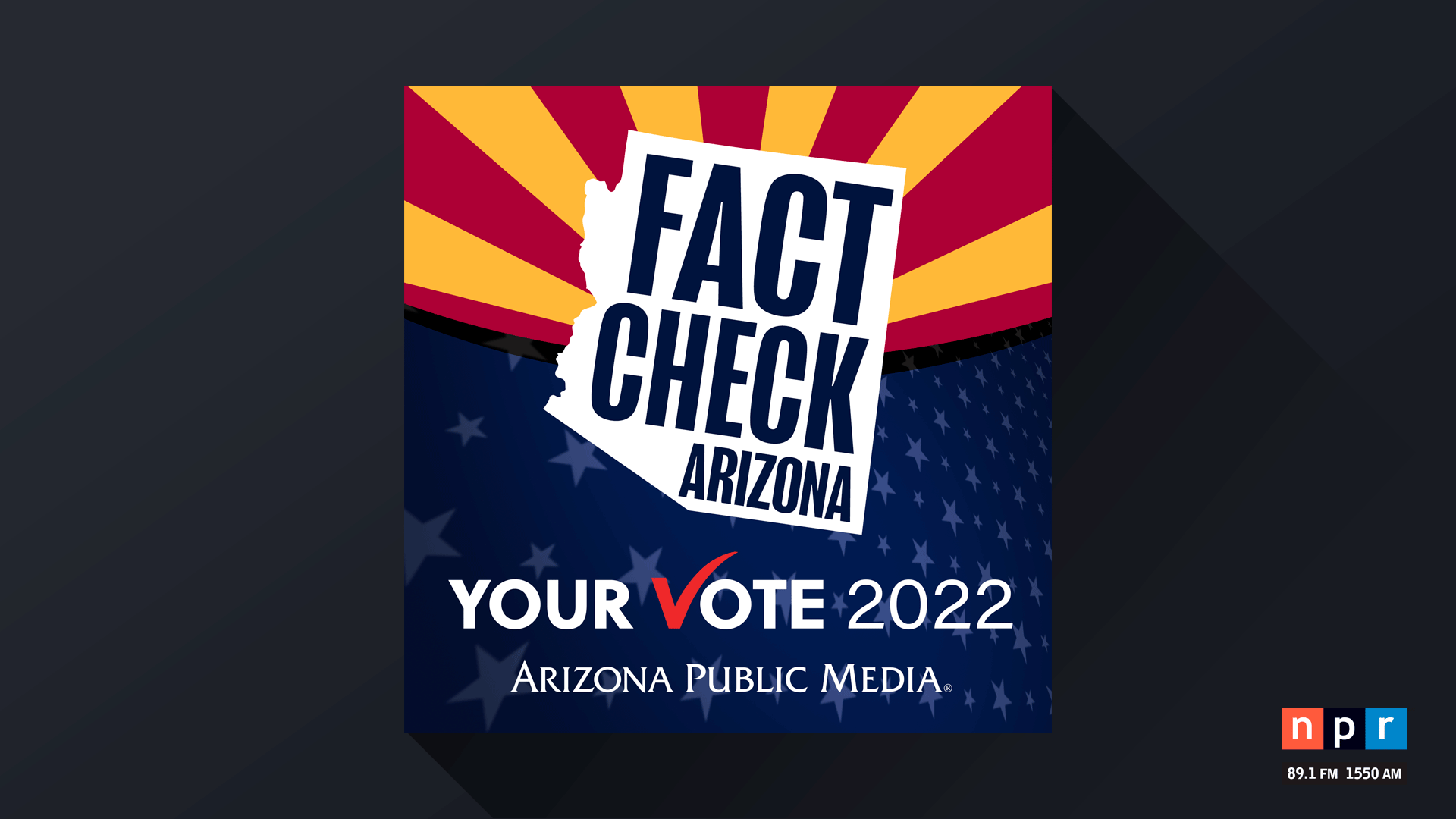 The Fact Check Arizona podcast will cover the 2022 Arizona election season.
AZPM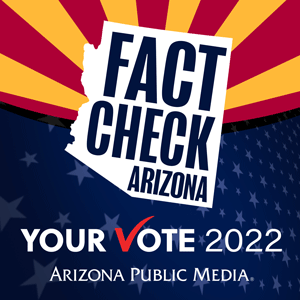 More than $100 million have poured into this year's race for a US Senate representing Arizona, making it one of the most expensive races in the nation.
That race featured a competitive primary for the Republican nomination that was won by Blake Masters.
Masters's website has drawn a lot of attention since, particularly for how it has changed since that victory.
The topic was mentioned in an October 6 debate, where Masters tried to elude a question about it.
"I encourage people to go read my website now," he said after being asked about changes to his website to his stance on abortion. "It is still the most pro-life, most detailed agenda of any Senate candidate running nationwide."
Master's stance on abortion has changed (as we mentioned in the previous episode of Fact Check Arizona), and it is not the only place where such moves have happened since the Republican primary ended.
Masters' website also changed stances on education, gun rights and elections.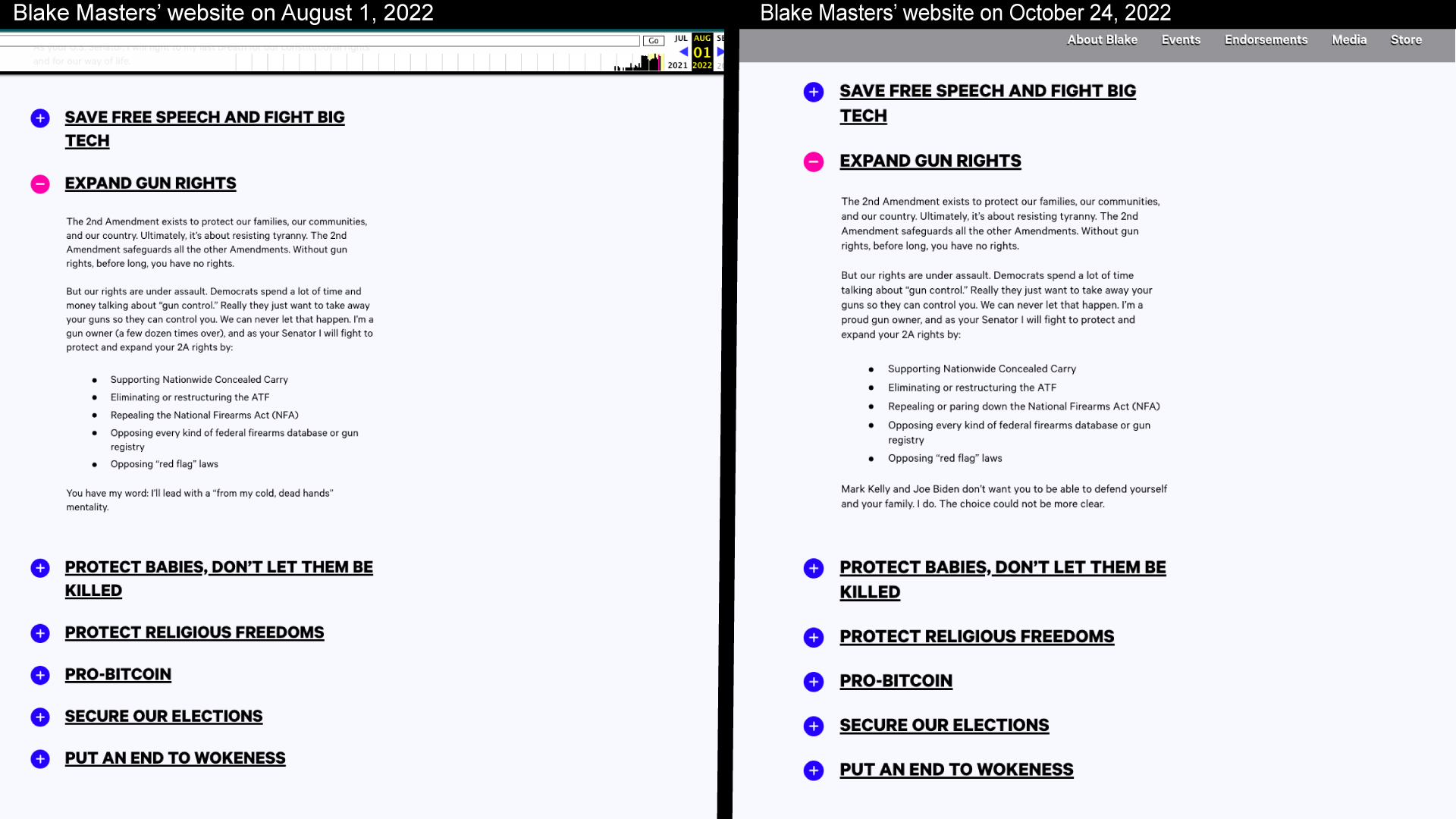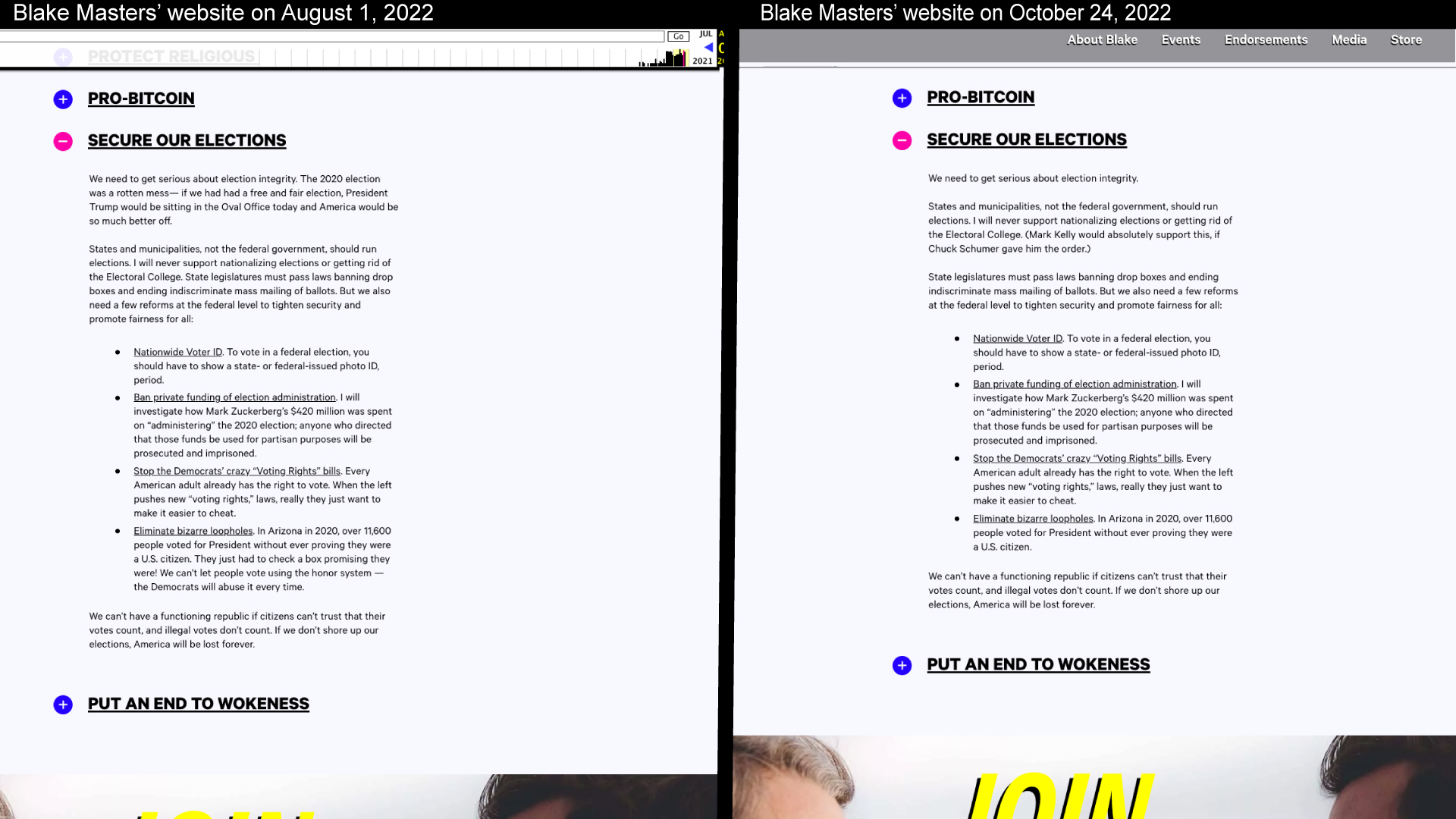 Those claims do include some items that require clarification or fact-checking.
When Masters mentions 11,600 people in Arizona who voted without proving citizenship, that appears to be a reference to Arizona's law requiring voters provide proof of citizenship.
Arizona can require such proof for state elections, but not for federal elections, per a 2013 Supreme Court decision
The site also claims that Mark Kelly would vote to repeal the electoral college. AZPM could find no proof to back that claim, and the Kelly campaign said he has not made such a statement.
Masters' erased claims about the 2020 election didn't just change on his website either.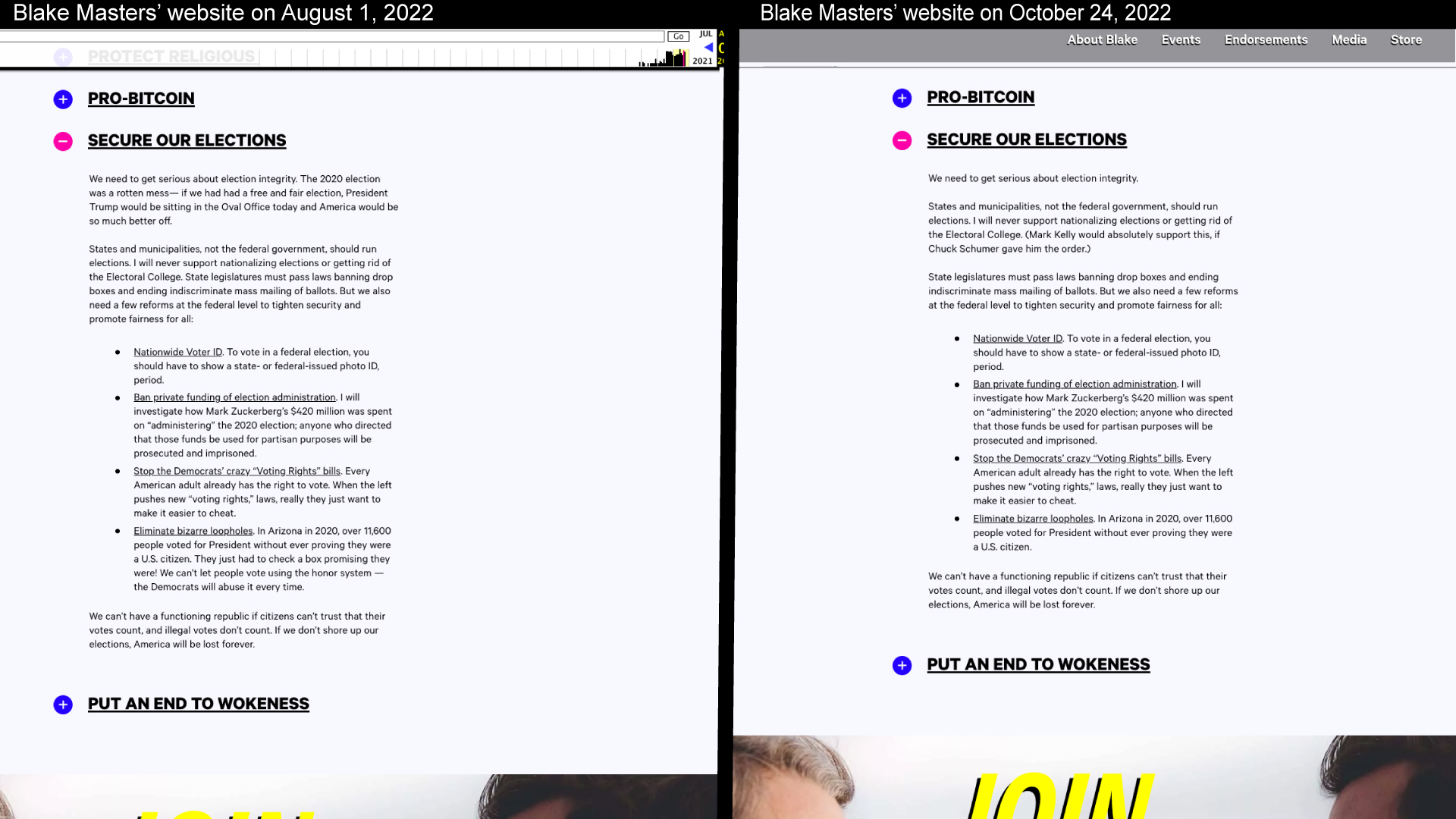 He affirmed that Joe Biden is the duly-elected President of the United States, though both times he did qualify that statement.
The first time, he said of course Biden is president and pointed to inflation as a sign. He responded a second time by saying, "I suspect that if the FBI didn't work with Big Tech and Big Media to censor the Hunter Biden crime story, yeah, I suspect that changed a lot of people's votes."
Such pivots do happen, according to Chris Weber, a professor of Political Science in the School of Government and Public Policy at the University of Arizona. "The Blake Masters versus Mark Kelly race is a perfect example of this," he said. "So the candidate Blake Masters who had a website with much more extreme positions that now has been overhauled."
According to Weber, the move to the middle happens as a candidate works to appeal first to primary voters, then to all voters.
"This is the idea that more extreme candidates tend to do better in primary elections than general elections, and part of the reason is they're appealing to a qualitatively different base."
They must do so because primary voters tend to be a smaller group who are more to ideological extremes.
"What we've seen in the era of political polarization which we live in, a really extreme political polarization, is that centrist candidates have a really hard time winning the primaries in a number of states."
And, the backlash against candidates who shift views before and after the primary is usually not severe enough to make the move disadvantageous.
"In fact, I would say that it probably benefits them more than adversely affects them, especially when they can sort of do it under the radar and it's not well documented and noticed."
The non-profit newsroom The 19th found two other congressional candidates who changed website language on abortion this year: Tom Barrett who's running in Michigan and Bo Hines in North Carolina.
There have been notable instances of candidates changing their views on issues, such as Barrack Obama's change in stance on same-sex marriage, Joe Biden was a driving force behind 1990s tough on crime legislation but now touts criminal justice reform.
Weber said any effect of a candidate changing their political stances after is "probably pretty marginal at the end of the day" due to political polarization.
And general website edits and redesigns are not uncommon, at least this year in Arizona. Both major-party nominees in the Attorney General's race have made changes to their website, as has Katie Hobbs, who added language about the fight over which abortion law is enforced in Arizona.
In fact, the other two candidates in the state's US Senate race have made changes to their policy platforms as part of larger website redesigns post-primary, though neither had notable opposition.
Mark Kelly's website went from having general statements about policy issues such as healthcare, education, wages and social security to having more concrete policy agendas.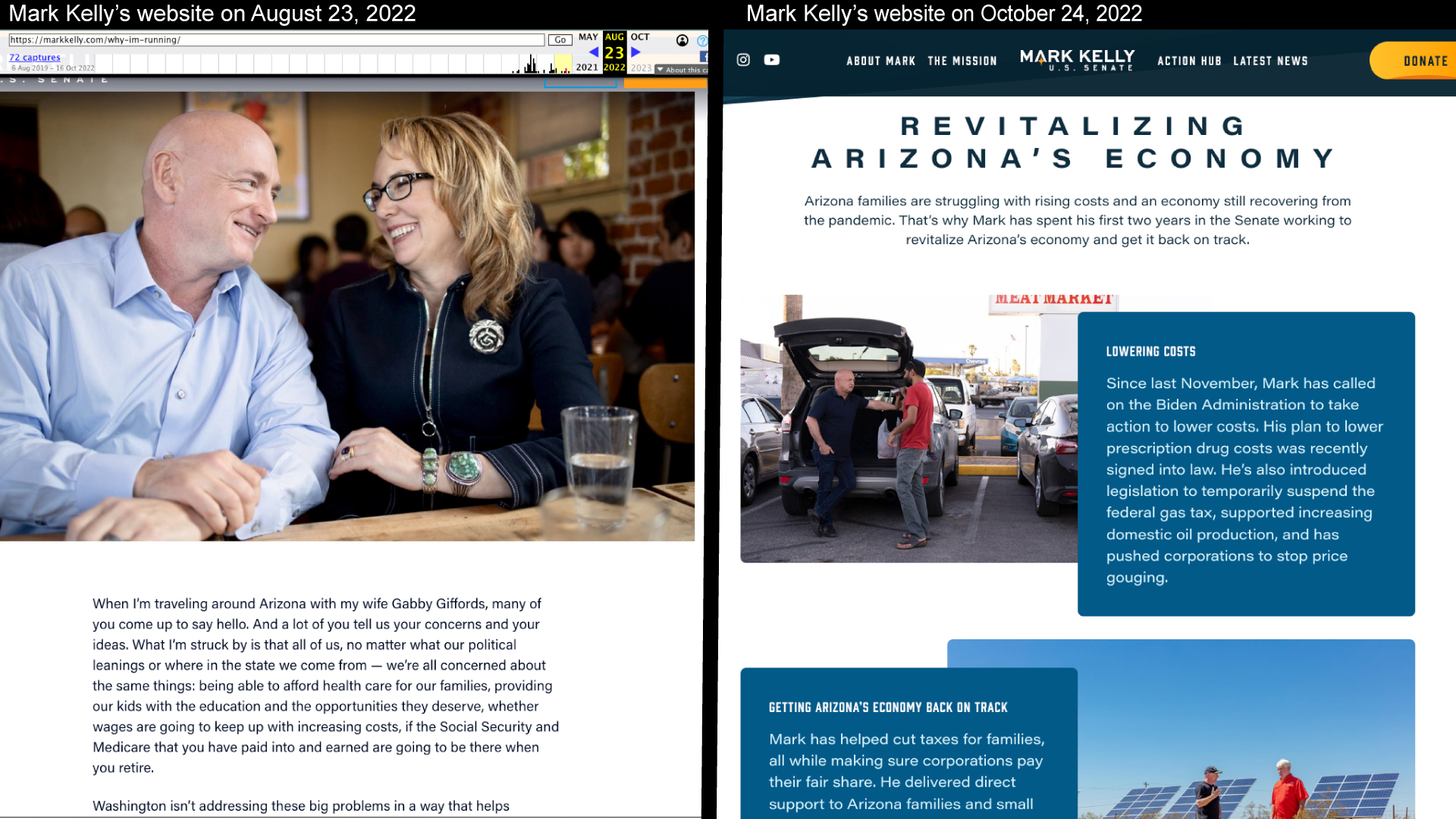 Libertarian candidate Marc Victor has also edited his website, adding more policy positions.
"In terms of Mark Kelly's specific strategies here though, I don't know if that necessarily plays well into this trend [of moving to the middle]," said Prof. Weber.
He said it's more of a case of candidates who do not have competitive primary waiting to find out which of a candidate's positions may best appeal to voters.