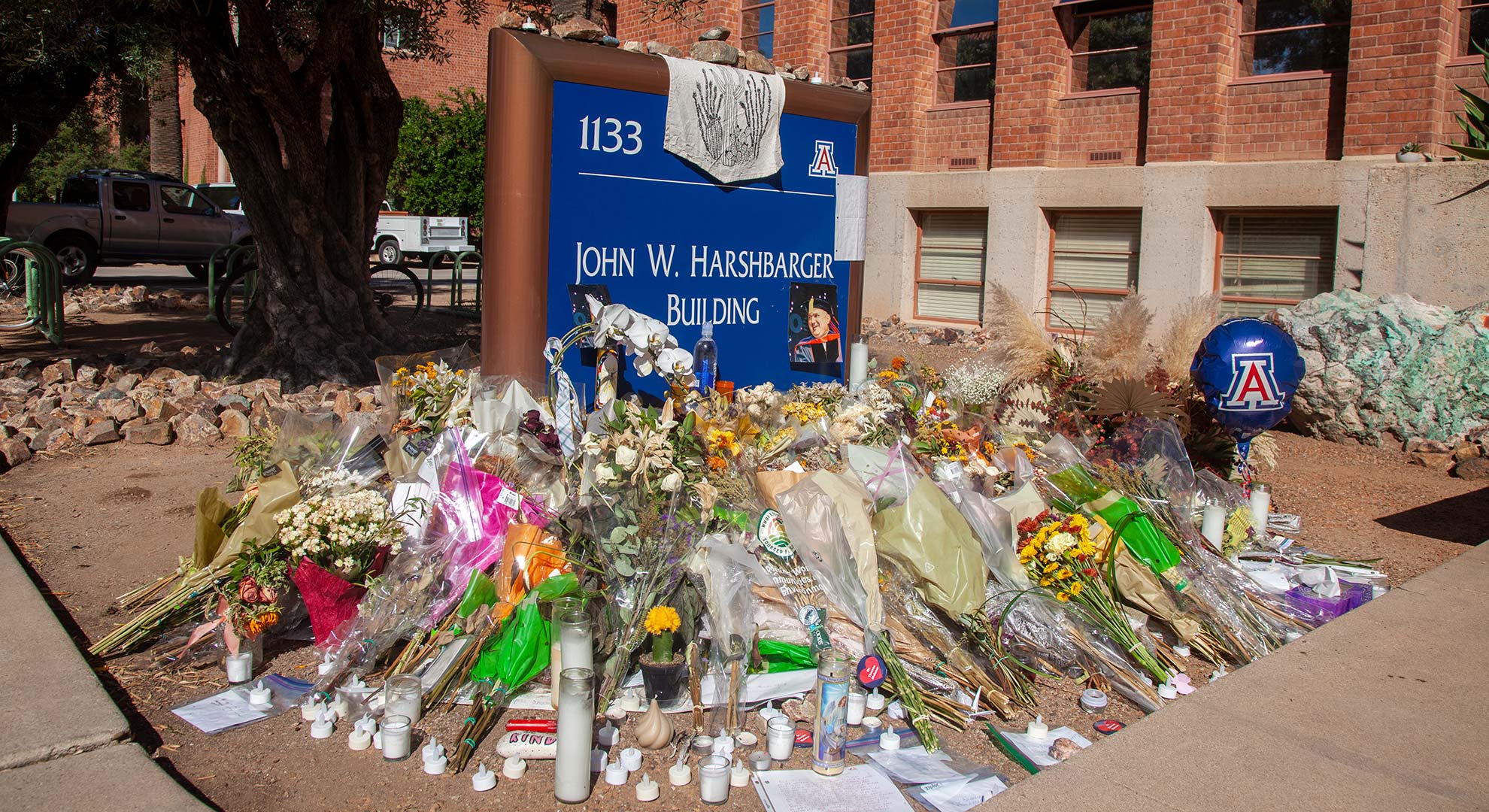 Flowers, candles and letters lay in front of the Harshbarger building sign following the murder of Professor Thomas Meixner on Wed. Oct. 5, 2022 at the University of Arizona. Meixner was killed by a former student on campus.
Paola Rodriguez/Arizona Public Media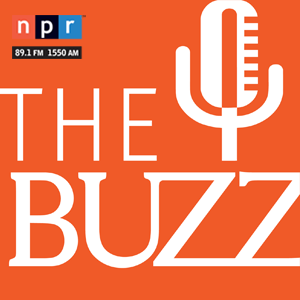 Memories of University of Arizona Professor Thomas Meixner filled the hallowed halls of the Saint Thomas Moore Catholic Newman Center. Family, friends, students, and colleagues gathered together for a memorial service in what marked the one-year death of Meixner.
Meixner was killed on campus by the alleged shooter and former graduate student Murad Dervish on Oct. 5, 2022. Meixner, along with a student and other faculty, was subject to a year's worth of alleged harassment and threats by Dervish, who felt his expulsion from UA was unjust.
As the one-year mark of his death carries across both the UA and Hydrology community, AZPM News asked his community to share the memories they had with the beloved professor. One message we received was from Kathleen Meixner, Tom's widow.
"Live like Tom means being wholeheartedly connected to the people and causes which are meaningful to you," Kathleen said. "He chose to be all in every way and every day of his life. Time for him was a gift and he used it well."
To listen to the rest of her message, head to our memorial page.
Dr. Christopher Castro never thought he would assume his friend and colleague's role as department head of hydrology and atmospheric sciences, especially in this manner.
"That's all been really challenging, but also rewarding in its own way, that the unit I lead really consist of such great and wonderful and supportive people," Castro said. "I don't think I would have been able to keep pressing on without their continued support and love really."
Castro, along with other students, faculty, and staff, have resumed work in the Harshbarger building, the place of the shooting. While Castro feels physically safe in his office in the building, he has come to understand that is not the same reality every person faces. Those affected by the building's connection to the tragedy were relocated to offices in Harshbarger that have more security fixtures. But, the memory remains.
"Can I erase the emotional connotations of the building? No." Castro said. "This aspect of feeling safe and the physical space you work is an issue no matter where you're at on campus. So this aspect of how we deal with the real physical security of our buildings, and then how people psychologically feel working in those spaces, I think this is something we have to really think long and hard about."
Castro says his understanding of grief is one that he has grown to better understand this past year.
"When you're talking about working through deep trauma, this is a process. It is not just a few months or even a year that it's done. When you experience trauma associated with a shooting event, it lives with you for a lifetime. It changes you as a person. And so there is no 'fixing it,' or you become normal. It is more how you live with that as a part of you." As for his interim role, he reflects back on advice that Tom gave him as he navigates support for his department.
"People's emotional response to tragedy is very intimate, and it's very personal," Castro said. "What you learn as a unit leader is you have to be compassionate, and sensitive, and loving every day to work through people's unique needs… And you're never going to stop perfectly satisfy anyone. But, as Tom said to me once, he said 'don't let the perfect be the enemy of good.' And so you go through each day, you do the best you can and that's all you can do."
Faculty Senate
Over the last year, UA faculty and administration have been at odds over the way the university handled the aftermath of the shooting. Professor Dr. Leila Hudson is the chair of the faculty senate and she believes communication is getting better.
"While there continue to be aspects of leadership and composition of the senior leadership team that we would like to have addressed, we were pleased that we got the president's ear and that he has really become a partner with the faculty in trying to address and face and solve some of the big issues that we all face together," Hudson said.
With changes across the university including new door locks and an Office of Public Safety, Hudson believes UA is moving in the right direction.
"With these changes, the interface of communication between the faculty, and also staff and students, and the university administration is broader, wider, and denser than it ever was over the last few years," Hudson said. "It will never bring Tom Meixner back. But we hope that going forward, we at least have the communication systems, if not the perfect system yet, for addressing threats and not moving on without confronting threats and risks to our safety."
AZPM requested interviews with UA President Robert Robbins, interim UA Police Chief Chris Olsen, Interim Vice President and Chief Safety Officer Chair Steve Patterson, and the Threat Assessment Management Team Director Dr. Jessie Semmann. UA denied all four of our interview requests due to an observance of Dr. Tom Meixner's death and scheduling issues. AZPM requested two of the four interviews in August.