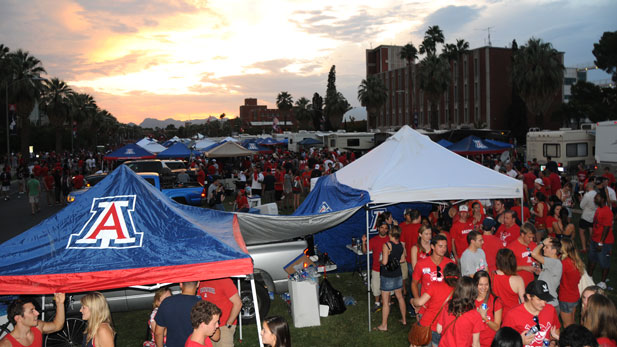 Red and blue on the mall at the University of Arizona before the season opener.

Mitchell Riley
Nearly 49,000 Wildcat faithful were in attendance for the season opener against Toledo. Fans on the mall wore the traditional red and blue.
Tents, trailers and tailgaters packed one against the other. The grills were smoking and "Bear Down" could be heard at every turn.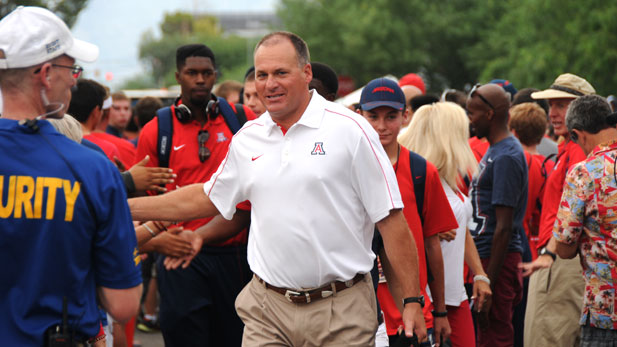 Former University of Arizona football coach Rich Rodriguez greets fans as he leads the team into the stadium, 2012.

Mitchell Riley, AZPM
Although it wasn't always pretty, the 'Cats and new head coach Rich Rodriguez put this first game in the win column, 24-17 in overtime over Toledo.
Rodriguez has introduced a no-huddle spread offense that relies on speed and big plays. Defensive coordinator Jeff Casteel is the architect of the new 3-3-5 stack defensive scheme which he ran with great success at West Virginia.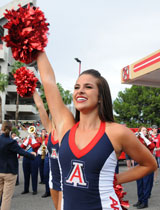 Wildcat pom and dance line with fans on the south side of the stadium. (PHOTO: Mitchell Riley)
Most agree the young but talented 'Cats will struggle some this year, so modest expectations and patience are being urged. However, going forward, the Wildcat Nation has high hopes for the Rodriguez football squad.
All eyes are on where the Cats can go. Rodriguez says he intends to lead the team to a Rose Bowl victory. That's what Wildcat fans want to hear, but they'll have to wait to see how long the road to Pasadena will be.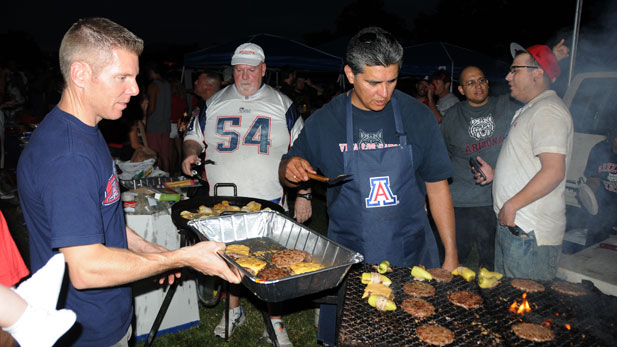 Tailgaters grilling hamburgers and bacon-wrapped peppers near the east end of the mall.

Mitchell Riley
The Wildcats have another home game Saturday when they line up against the Oklahoma State Cowboys who won their season opener 84-0. With an explosive offense, No. 18 OSU will prove to be a formidable foe.