Story by Christopher Conover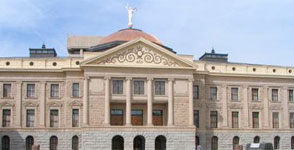 Arizona's Legislature is doing two things at once. They are in regular session taking care of a myriad of bills on a myriad of topics but they are also in special session to deal just with certain budget issues. To the casual observer the differences between the two may not be apparent and as a result the details can become confusing. Take bill numbering for example. In the regular session, Senator Russell Pearce (R-Phoenix, District 18) filed Senate Bill (SB) 1001. That proposal deals with what members of the Legislature can and can't do with mailings to their constituents and others. It was heard in the Senate Appropriations Committee on February 2nd. In the special session running at the same time a number of lawmakers sponsored Senate Bill (SB) 1001. It sets the date for the special election for the increase of the state sales tax. It too was heard in a committee on February 2nd, but the confusion doesn't end there.

In the regular session, two members of the Senate filed Senate Concurrent Resolution (SCR) 1001. It deals with punitive damages against schools and teachers. Then there is SCR 1001 in the special session. It lays out the parameters of the temporary sales tax increase. It was voted on, along with special session version of SB 1001 on February 2nd. Confused? You are not alone, the difference in all of these bills which session they were filed for. As we post bill explanations and updates to this section of the website we'll specify if they are for the special session.