Sen. John McCain, R-Arizona talks with constituents during a town hall in Green Valley.

Christopher Conover, AZPM
Sen. John McCain told a Green Valley audience Tuesday that Arizona will lose 49,000 jobs if the federal budget cuts go through as scheduled on March 1.
The pending mandatory cuts, known as sequestration, will take effect across the board of federal programs if Congress does not act on a spending and revenue plan in eight days.
"Results of sequestration in Arizona would be 49,000 jobs lost, 300 health care jobs lost, etc., etc., but the most important impact would be on our national defense," the Republican senator said.
McCain said Luke Air Force Base near Phoenix had already canceled an open house featuring the Air Force demonstration team the Thunderbirds, because of the possible budget cuts.
In the hour-long question and answer session, he also discussed the border and immigration, calling for more Border Patrol agents, fencing and technology to secure the border. He also said more enforcement of employer sanctions is needed as is a plan for "dreamers," young people brought to the country as children.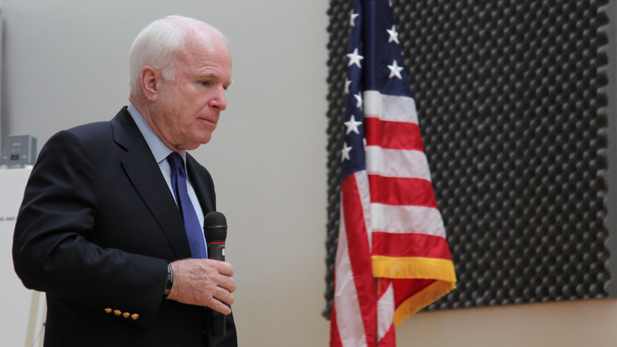 U.S. Sen. John McCain.

Christopher Conover, AZPM