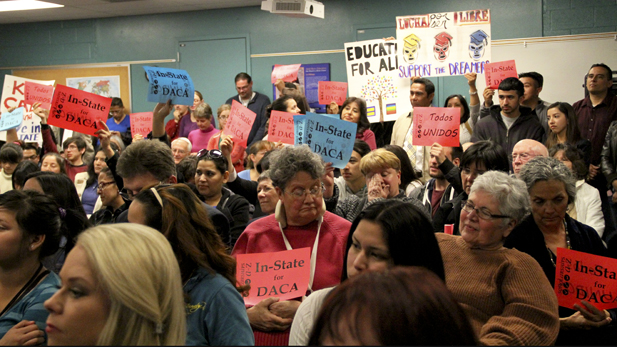 Hundreds supported in-state tuition for students who receive Deferred Action for Childhood Arrival status.

Mariana Dale, AZPM
Undocumented students who receive temporary work permits through the Deferred Action for Childhood Arrival program will now be eligible for in-state tuition at Pima Community College.
The Pima Community College governing board voted 4-1 Tuesday night to accept the permit as proof of residency.
Board members Sylvia Lee, Marty Cortez, David Longoria and Brenda Even supported the change. Longoria said there is no need to punish those who were brought to the U.S. as children and have called Southern Arizona their home.
Board member Scott Stewart was the only dissenting vote.
"I think it is premature for the college to do this. There are some legal questions that still need to be resolved and as well as the cost model," Stewart said.
Hundreds of supporters filled the meeting room and spilled over into the courtyard at El Pueblo Liberty Learning Center. Many held red and blue signs that said "In-state Tuition for DACA Students," a term used to describe the Deferred Action program.
Osmar Urias could be one of the students affected by the change. Despite living in Tucson for more than a decade, Urias, a PCC student, pays out-of-state tuition because he does not have legal immigration status in the U.S. he said.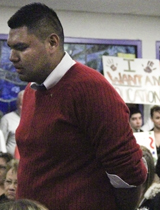 Osmar Urias, 20.

Mariana Dale, AZPM
Urias applied for deferred status about three months ago and is waiting for approval, he said.
"When I get (the permit) and I'm considered an Arizona resident it will facilitate things, it will be less things in the way, less obstacles," Urias said.
Eligibility requirements for deferred action status include coming to the country illegally or living in the country with expired permits before June 15.
Applicants must also have entered the country before they were 16, be between 15 and 31 years old, have lived in the U.S. for the past five years, be currently enrolled or have graduated from high school, served in the armed forces and have no criminal record.
Pima officials say colleges in about a dozen states have already approved in-state tuition for those who receive DACA temporary work permits. Maricopa Community Colleges approved the change last year.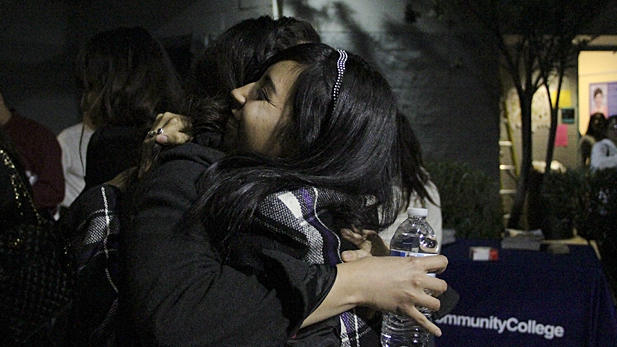 Lupita Alcaraz hugs her friend after the PCC board voted to grant in-state tuition under DACA.

Mariana Dale, AZPM