Watch the TV version:
(VIDEO: AZPM)
Listen to the radio version:
Members of the local chapter of the political alternative group No Labels has resumed working to make politics less vitriolic.
The group is trying to take some of the partisanship and name calling out of politics so voters and their elected officials can focus on the issues that matter, instead of taking sides.
Dorothy Riley joined No Labels in Tucson two years ago when the chapter formed. The group is also a national organization, with more than 300,000 members in all states, including more than 3,300 in Arizona, she said.
Riley was drawn to the group because she said she knows people form opinions about others before they have all the information, and she liked the No Labels premise.
"Once you attach labels to somebody, it can conjure up a lot of different ideas," she said.
As a teacher, Riley said, "Sometimes you hear things about students and that can bias you, or prejudice you. Same thing if you hear conservative, progressive, liberal, Democrat. There's certain things that conjure up about this individual before even listening to them. That creates barriers, and I think we see a lot of those barriers."
Riley is a "citizen leader" of the Tucson chapter, equivalent of president or chairperson, and as such, she organizes the local meetings. There had not been one in about a year, so this weekend she set up a meeting.
It was sparsely attended - four people including herself. Another attendee was John Ragsdale, who has been involved in the group for some time.
"It's an organization, kind of a grass-roots organization, whose purpose is to get away from the boundaries that are identified by using a label such as being a Republican or a Democrat or an independent and bring together with some common causes and make the government function more effectively than it currently is," Ragsdale said.
The low attendance didn't worry Riley, who has as one of her personal goals to increase the number of interested people.
She began the meeting with a quote from cultural anthropologist Margaret Mead that showed she isn't discouraged.
"She said, 'Never doubt that a small group of thoughtful, committed citizens can change the world; indeed, it's the only thing that has.' And if you think about a lot of the changes that have gone in society, you see that they came from the outside," Riley said.
She cited Vietnam War protests, the Civil Rights movement, Occupy Wall Street protests.
"There are many many other examples but usually it comes from the outside and this is another example of us coming from the outside and trying to influence how our government operates," Riley said.
Ragsdale amended Riley's statement to say it's about influencing how the government "should operate."
One way No Labels is hoping to cut through political barriers is getting members of Congress to agree to meet regularly with people from other parties. There are 53 representatives and senators who have agreed to that goal. They make up a list of No Labels Problem Solvers
No one from Arizona is on that list. Riley wants local No Labels members to try to get U.S. Rep. Ron Barber, D-Tucson, and U.S. Sen Jeff Flake, R-Ariz., to join. She said U.S. Sen. John McCain, R-Ariz., already has turned down a request.
Ragsdale has an even higher goal.
"I would hope to see all of the members of Congress eventually become involved in No Labels and become part of the problem solvers initiative that No Labels is pushing. It seems to me to be just a, almost a no-brainer that every member of Congress should join in and help to make the government function through the problem solvers process," he said.
Nationally, No Labels has been involved in other efforts in Congress, including a proposal to dock pay for members when they don't get their jobs done, known as a "no budget, no pay act."
No Labels is also pushing filibuster reform in an effort to cut down on the number of times one party or the other can prevent a vote on legislation, Riley said.
The group's mission is easier than it sounds, Ragsdale said. Local and federal elected officials just need to spend time together.
"It's that old thing that if you touch a person's hand, look in their eye, you create a connection. They're one label you're one label. If you can break down those barriers, those labels, hopefully we can get something done," he said.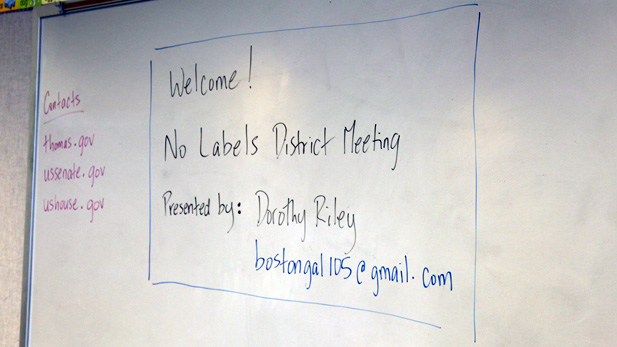 No Labels is a group trying to take the partisanship out of politics. (PHOTO: Andrea Kelly)