University of Arizona technologists have created a mobile application for iPhones that provides dust storm alerts and safety tips.
Available for free download on iTunes, the app uses a person's geographical location anywhere in the country to determine if there is danger of a dust storm in the area, or any other type of storm.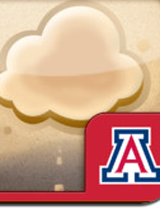 (PHOTO: University of Arizona)
An Android version of the app is expected to be released later this month or next month.
The dust storm app was the brainchild of Kirk Astroth, UA assistant dean of Cooperative Extension and director of the Arizona 4-H Youth Development program in the UA College of Agriculture and Life Sciences.
Developed by University Information Technology Services' web/mobile services team, with support from Student Affairs Marketing, it is among a group of mobile apps designed and developed by members of the University community as part of the UA's Mobile Matters initiative.
Arizona experiences some of the worst dust storms in the country during the spring and summer months.
The storms lead to poor visibility and potentially dangerous driving conditions on the state's highways.