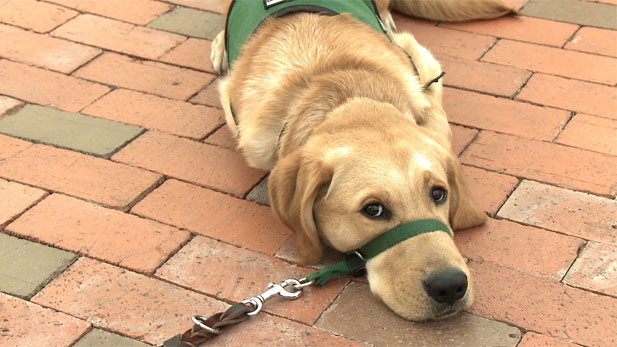 Bishop is a 7-month old trainee for Guide Dogs for the Blind.
Some classes at the University of Arizona are getting some unexpected visitors dressed in collars and vests. A club, Paws for the Cause, has students training puppies to be service dogs for people with disabilities. The student dog trainers take on this responsibility in addition to their busy college schedules.
Paws for the Cause is the local arm of a national organization called Guide Dogs for the Blind, which specializes in breeding, training and dispersing professional service dogs. From the time the dogs are 8 weeks old, they are partnered with their human participants in Paws for the Cause. The pair then spends an entire year getting the dog ready to help a visually impaired individual mobilize better.
Pricilla Laro, a veterinary science major at the University of Arizona, is referred to as a puppy-raiser within the club, and she can be spotted on campus walking her 7 month-old trainee, Bishop. The two are practically inseparable throughout the day as Laro is required to take Bishop with her to almost any place she would normally visit on campus.
"Its gets him used to human interactions and different kinds of environments as well," Laro said.
The puppy raisers of Paws for the Cause like to challenge the senses of their trainees, by coordinating a club field-trips to places like the county fair, where the dogs are exposed to all sorts of distracting sounds and smells. The training process for the dogs is tracked through a series of evaluations to assess whether the dog and trainer have put in the appropriate amount of time and effort.
"It's a really big commitment," Laro said, "the process is very long, and so it's not something to go into rather lightly."
Paws for the Cause is open for anyone to join. The club gets together on a weekly basis every Sunday afternoon, with their dogs in tow of course.
Producer: Kevin Reagan | Videographer: J Blain | Editor: Lauren Bays