AZPM
When it comes to Arizona's economy, normal used to be rapid job growth at low pay, and the new normal is modest job growth at modest pay.
What's the future? Business officials say many more high-quality jobs at high pay.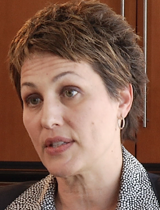 Sandra Watson, president & CEO, Arizona Commerce Authority. (PHOTO: AZPM)
Arizona's economy was so robust just six years ago that job growth hit nearly 6 percent. Then came the recession and a long, slow recovery. The state job forecast released Thursday said jobs will grow at a 2 percent average rate in each of the next two years.
Elsewhere, there are positive signs.
"Our goals - and we have very aggressive goals that we would like to accomplish over five years - 75,000 quality jobs over a 5-year period," said Sandra Watson, president & CEO of the Arizona Commerce Authority.
Watson, who made her comments in an interview for Friday's Arizona Week broadcast, heads the public-private agency created two years ago by the governor and the Legislature in what they said was a commitment to changing Arizona's approach to economic development and job creation.
The authority has put forth an aggressive agenda to attract new business, Watson said, adding that reaching the goal is doable.
"We are currently at just over 10,000 jobs in our first year," Watson said. "We still have two months left in this quarter and to the end of the fiscal year. So we feel very optimistic. ... With the tools that we have as well as the team that we have, we feel that we're on track."
When the authority was created, it was given $30 million in state taxpayer money to help attract businesses and a toolbox filled with other incentives, including tax credits, breaks on state regulations and jobs training programs.
Watson said those elements all are contributing.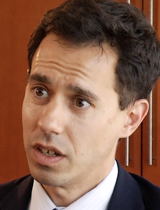 Glenn Hamer, president and CEO, Arizona Chamber of Commerce and Industry. (PHOTO: AZPM)
"We are very appreciative and very grateful that the Legislature and the governor have made this very significant investment in economic development. And it is an investment." Watson said. "Basically is what we're seeing now is we're able to compete for projects in a much more aggressive way than we were in the past."
Corporate income taxes were reduced 30 percent, business property taxes and other taxes were cut and businesses providing high-quality jobs are being offered a tax credit for every job created. Some of the incentives are place now; others take effect starting with the new fiscal year in July.
With all those incentives in place drawing attention to economic development, Arizona's business community is feeling optimistic, said Glenn Hamer, president and CEO of the Arizona Chamber of Commerce and Industry.
"It's all positive," Hamer said in an Arizona Week interview. "There's a lot of optimism to where the state is going. There's a sense that things are steadily improving. We see that with the jobs report. We're increasing jobs. There's just also a sense that the state has made a conscious decision to make itself far more business friendly than it had been in the past."
Arizona's unemployment rate in March was 7.9 percent, lagging the national rate of 7.6 percent. The state's April rate and job growth numbers will be released next Thursday in Phoenix.