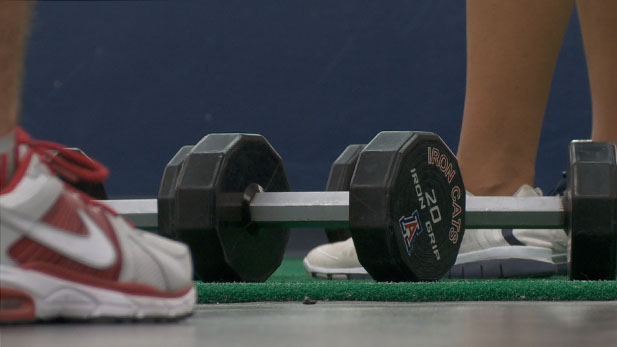 Dedicated college mascots, like Wilbur and Wilma, have to train just as much as any other athlete.
Explaining to your roommates why there's a fury animal costume in the dryer is just one of the many trials of being a college mascot.
Wilbur and Wilma Wildcat are two of the most recognizable faces on the UA campus. But the students underneath the fuzzy helmets go to extreme lengths to keep their own identities a secret.
Aside from trusted family members and friends, these students try to have an excuse for anyone who may question that they are the beloved feline caricatures. Though, the student playing Wilma concedes that there are still inevitable laundry situations that can't be well disguised.
Due to the immense amount of sweat absorbed through the duration of one sporting event, Wilbur and Wilma are forced to wash their own uniforms frequently; just one of the tribulations that make being a college mascot all the more challenging.
When they're not attending classes or doing homework like much of their peers, they're sometimes dancing at weddings or cramming around in a port-o-potty trying to get dressed in time for a scheduled event.
"I think the hardest thing about being a mascot is your time," said Jillian Williams, the mascot's personal strength trainer.
Williams is a witness to Wilbur and Wilma's demanding schedule, as she meets with them privately up to 3 times a week to build up their stamina for their many performance events.
Although Williams admits that Wilbur and Wilma's strength routine is much more theatrical than their football counterparts, she said that the student mascots are just as athletic as any of the other students walking into the McKale Center.
Wilbur himself is starting to earn some more credibility as he competes this season in the national Capital One Mascot Challenge. As of last week, Wilbur is ranked 13th out of 16 other selected college mascots from around the country.
Over the course of twelve voting periods, Wilbur will be paired against a fellow mascot in an attempt to earn votes from fans via Facebook or Twitter. Last week Wilbur lost by a percentage of 56% against Mike the Tiger from Louisiana State University.
Still, Wilbur and Wilma said they find Arizona's loyal fan base to be the greatest incentive for all the sacrifice they put into being the characters.
"I get more numbers when I'm in the suit then when I'm myself," said Wilma, as she brushes off an old lipstick stain from her costume. It's a small remnant of appreciation from one of many devoted Wildcat fans.
Producer: Kevin Reagan | Videographer: Eric Rawdin | Editor: Josh Montijo