AZPM
This weekend, in the Tucson Festival of Books' Science City, fans of Ray Bradbury, a famous science fiction writer from Southern California, will find a new essay collection that presents a "kaleidoscopic view" of his life and work.
The book called, "Orbiting Ray Bradbury's Mars: Biographical, Anthropological, Literary, Scientific and Other Perspectives," is a collaborative project of a diverse group of writers, with several based at the University of Arizona's Lunar and Planetary Lab and at the Kuiper Circle.
For Gloria McMillian, a UA research associate and an editor for the collection, Bradbury's death in June 2012 was a trigger to write a book, which not so much celebrates his life, but rather finally makes known all the areas Bradbury was involved in.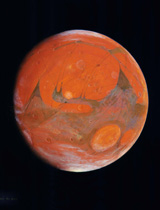 Bill Hartmann's Mars illustration for cover of "Orbiting Ray Bradbury's Mars: Biographical, Anthropological, Literary, Scientific and Other Perspectives." (PHOTO: Bill Hartmann)
To bring out these connections, NASA scientists and professionals in humanities contributed to the publication.

By inviting people of different backgrounds, we wanted to connect arts and sciences for an author who represented both, McMillian said.

Bill Hartmann, who knew Bradbury personally, painted the image featured on the book's cover.
"I was trying to show what Mars was thought to look like at the time that Bradbury was writing his stories," Hartmann said. "And I painted this picture because I thought what if, when our Mariner 9 spacecraft got to Mars in 1971 and we turned on the camera, this is what we would have seen, these straight line artificial features on Mars."
This book is about understanding curiosity and not taking limits seriously, said McMillian.

"Someone like Bradbury, who never got to attend college…and… grew up during the Great Depression, believed that you don't let things stop you and that is one of the big messages in the book, not to take other people's culture away from them," she said.
Since then, the book, which made its debut back in November 2013, has been available for purchase online, such as on Amazon.com, and the McFarland Publishers website.
The essay collection will be featured at Science City at the Tucson Festival of Books on the UA campus this weekend. Saturday, March 15 McMillan will be signing copies of the collection at the UA Library Special Collections' current exhibition "Mars Madness."