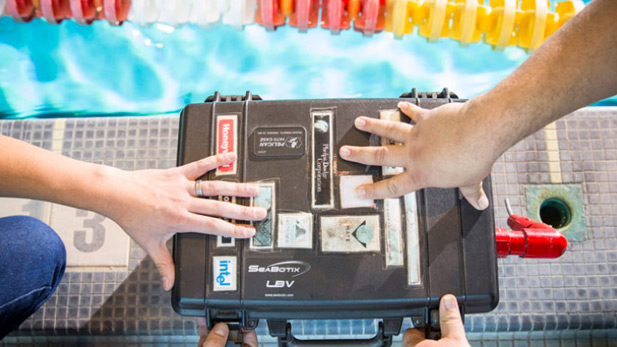 Underwater Dreams website
Story by Jude Joffe-Block
Fronteras Desk

Listen:
Ten years ago, an unlikely group of immigrant students from a poor Phoenix high school beat out MIT in an underwater robotic competition. Their David v. Goliath story as been captured in a documentary.
Underwater Dreams' opening night at Phoenix's downtown AMC theatre was sold out.
The film tells the story of Cristian, Oscar, Lorenzo and Luis. Four teenagers, all brought to this country illegally from Mexico by immigrant parents.
The year is 2004, and they are on the robotics team at Phoenix's Carl Hayden High School, which serves a mostly Latino, low-income student body. On a lark, their teachers entered them into a sophisticated college marine robotics competition in Santa Barbara, Calif. They built a robot they nicknamed Stinky.
When they arrived, the Carl Hayden boys were overwhelmed by their competition, which includes [MIT] (http://web.mit.edu/).
Team members Cristian and Lorenzo described it in the film.
"The MIT robot was impressive looking, I mean it was custom-made. And it was even like anodized and it had a bunch of logos and stickers from the sponsors. And I think Exxon Mobile was on there. That was a little intimidating," Cristian said.
"I had never seen that much white people," Lorenzo said. "Nobody was Mexican or Hispanic or Latino."
Then, the boys blew away the judges with their presentation. And their robot, Stinky, which they built out of cheap PVC piping from Home Depot, outperformed the other teams. They beat MIT to come in first. The film showed that fateful awards ceremony, with a judge announcing the winner.
"Carl Hayden," the judge said.
The Phoenix movie theatre erupted with pride at this moment. Many were friends, relatives, teachers or current Carl Hayden students.
Leticia Arcega is the mother of one of the team members, Cristian.
"La finalidad como padres fue darles una oportunidad y creo que logre," she said in Spanish.
Arcega said all of the parents brought their boys to the U.S. to give them better opportunities, and she feels she achieved that.
But there is a darker side to this story. Three of the four Carl Hayden team members were undocumented at the time of the competition, and that's made it tough to pursue college and professional careers.
The film showed a poignant reunion between the Carl Hayden team and the MIT team ten years later.
The MIT grads have gone on to impressive jobs, working at places, such as Monterey Bay Aquarium and Apple.
In contrast, only one of the Carl Hayden group, Oscar, was able to earn a bachelor's degree.
At the Phoenix film screening, Cristian, now 26, explained why he wasn't able to finish a degree at Arizona State University.
"I graduated from high school second in my class. I was on the presidential scholarship going to ASU, and then a year in, Prop 300 passed and my scholarship was revoked," he said.
Arizona voters approved Proposition 300 in 2006. It said students without legal status had to pay out-of-state tuition at Arizona's public universities and could not get state scholarships.
"Kind of missed out going anywhere after that," Cristian said.
Instead, Cristian transferred to a trade school. He said he still hopes of getting a BA in mechanical engineering, but in the meantime, he is starting his own electronics business.
Lorenzo has a catering company, and Luis is a supervisor at a janitorial company.
"We need engineers, we need mathematicians," said Mary Mazzio, the film's writer, director and producer.
She said she hopes the film can inform the national debate on immigration reform, and the need to nurture diverse talent in the STEM fields of science, technology, engineering and math.
"They are going to be 1.2 million unfilled jobs in science and technology, these are the kinds we need to fuel our future as a country and keep us competitive," Mazzio said.
Underwater Dreams is opening in select theaters around the country. It is also available on demand on cable providers. A Hollywood feature film based on the story is expected out early next year.