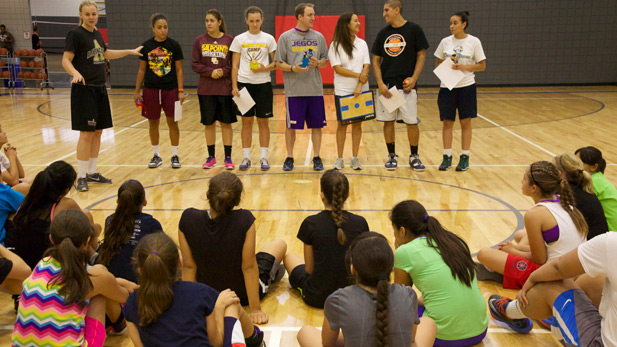 Clark, coaches, campers end day two

Vanessa Barchfield, AZPM
Last in a four-part series

Listen:
Christine Clark graduated from Harvard in May, where she was co-captain of the women's basketball team and the fourth highest scorer in the history of the university's basketball program. In a few weeks, the Tucson native is moving to Parma, in northern Italy, to play in that country's version of the WNBA. But for now, she's home. And although it's summer, Clark's not taking it easy.
She interns at the Arizona Cancer Research Center. She works out, a lot. Studies some Italian. And this week, she's running a basketball camp for girls that range in age from 8 to 18. Some of her campers play everyday; others have never touched a basketball before.
The sport has opened up the world to Clark, and she wants to make sure it does the same for another generation of players.
"I grew up in Tucson playing basketball, and there really wasn't a lot of opportunity for me to go to the gym and learn new things," Clark said. "I wanted to come back and just provide that opportunity for younger girls...that I don't think they have right now."
Clark's basketball camp runs four hours a day, and there really aren't any breaks.
The girls interrupted their dribbling drills and three-on three-scrimmages to grab a swig of water, but otherwise they play and run and jump non-stop.
In early August, camper Emily Chau will start eighth grade at Orange Grove Middle School, where she'll play on the basketball team. She said the sport has helped her in a number of ways.
"Before basketball I was really shy and timid," she said. "And then basketball just kind of brought me out so I got new friends and stuff like that."
Clark said much of what her campers are learning this week can be applied off the court as well.
"Basketball teaches you so much about life," she said. "I think it shaped me as a person in probably every way, as far as being able to persevere through adversity knowing what it takes to be successful."
Later in the week, Clark's campers will do fewer drills and graduate from scrimmaging three-on-three to five-on-five, playing some "real basketball" as Clark put it.
Clark's already making plans to expand the camp next summer, when she's home from her first year playing professional ball. She said she wants to get more local girls into the game. And of course, she has some plans of her own.
"So my next goal is to have a great season playing over there, play my best, get my team to win some games hopefully, and then get a shot at the WNBA," she said.
What team does she want to play for? The Phoenix Mercury, of course.
Part I: Summer Camp Fosters Inclusion, Understanding
Part II: Kids, Animals Bond at Humane Society's Dog Days in Desert Camp
Part III: Teenagers Ask Big Questions at Biosphere 2's Summer Academy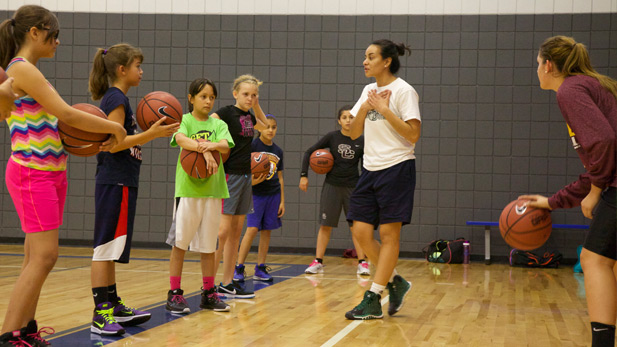 Dribbling practice

Vanessa Barchfield, AZPM