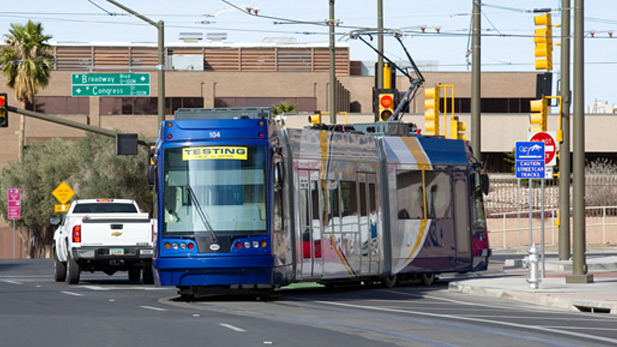 City of Tucson
Listen:
Tucson's streetcar took on eager passengers for the first time Friday morning, after a decade of dreaming, planning and construction and several months of testing along the 4-mile route.
Political dignitaries and hundreds of others jammed a sweltering downtown intersection for a ribbon cutting, followed by a ceremonial ride. After that, the streetcar began regular operations, around 10 a.m.
"I live downtown just at Cushing (Street) and Main (Avenue), so it'll be great for me, and I work up at Broadway and Congress, so the streetcar is going to go straight from my work to my house," said Grace Hargis, one of the first passengers on board Friday.
Inaugural rider Evelyn Alvarez, who said she also lives downtown, got a seat on one of the packed cars.
"We've been waiting for this to happen, and we wanted to be one of the first ones to ride it," Alvarez said.
The $196 million system, built with a combination of federal and local money, features eight cars that will make stops at 22 stations along the route, from the Mercado San Agustin west of downtown to just outside the University of Arizona Medical Center.
The route goes both ways through the heart of downtown, north on Fourth Avenue and east on University Boulevard. It takes a route through the center of the UA campus, with a station a half-block from the university Administration Building.
The idea for the streetcar first came up in the early part of the last decade. Planning began after a 2006 vote by area residents to authorize funding through creation of a Regional Transportation Authority.
The original startup date was Nov. 11, 2011, but by then, construction had not yet begun.
Merchants, motorists and residents endured street closings and significant construction delays along the route for nearly two years leading up to Friday's startup.
Critics have said the rail operation was too expensive to build and won't bring a return on the investment. Proponents have touted its economic development benefits, pointing to the rebirth of downtown Tucson in the last few years as a sign of the streetcar's value.
Rides on the streetcar will be free through the weekend. Starting Monday, a one-way trip will be $1.50. Kiosks at the streetcar stations will sell only $4 passes good for 24 hours. Other passes can be purchased online or at any of the municipal transit's three centers.