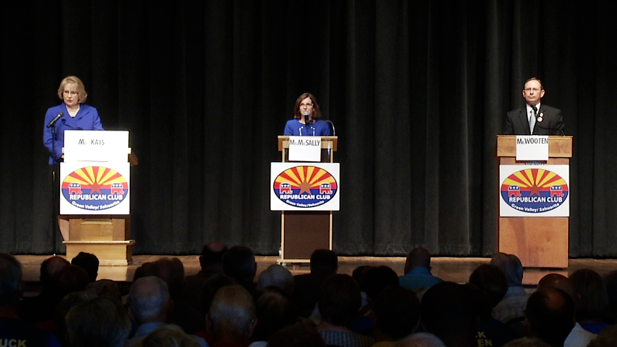 Left to right: Shelley Kais, Martha McSally and Chuck Wooten.

AZPM Staff
Martha McSally easily turned away two fellow Republicans Tuesday to win the party nomination in the 2nd Congressional District, setting up a rematch with Democratic incumbent Ron Barber in November.
Martha McSally.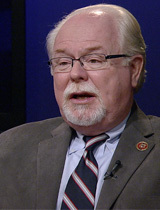 U.S. Rep. Ron Barber.
With votes still being counted, McSally had 68 percent, to 23 percent for Chuck Wooten and about 8 percent for Shelley Kais.
The former Air Force fighter pilot focused even her primary campaign on Barber and started in on him again as the results came in Tuesday night. She declared victory by sending out an email plea for campaign contributions for the November race.
Barber was unopposed in the Democratic primary and was firing his own salvos, introducing new TV commercials during the week and sending out a ceaseless series of press releases touting his congressional accomplishments and saying McSally was "out of step with Southern Arizona."
Among the race's most contentious issues is border security. The district's southern boundary touches the border with Mexico for 80 mostly rural miles of desert and sometimes sparse fencing.
McSally said it is a fact that the border is not secure.
"My most recent trip down there, I could have gone in and out of Mexico several times," McSally said in a July candidates' forum. "I chose not to, but our border is not secure. We need barriers and fencing, we need manpower at the border, we need intelligence-driven operations in order to detect monitor and intercept illegal activity."
Barber has criticized federal actions along the border, calling for more agents and better surveillance to protect ranchers and others living in the area. He has said the border should not be declared secure until the people living along it say it is.
McSally has criticized Barber for his support of the Affordable Care Act.
"There's a big contrast between us on that," she said at the July forum. "Barber believes in Obamacare, he's doubled-down on it many times, and I believe in thoughtful solutions that are patient-centered with choice."
Barber has criticized McSally for wanting to cut Medicare and privatize Social Security.
Among the 374,472 registered voters in the district, 33.8 percent are Republicans, 32.8 percent are Democrats and 32.6 percent are independents.