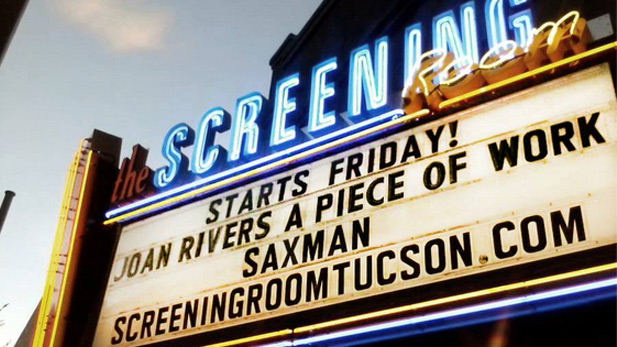 The Screening Room reopens after an extensive renovation.

The Screening Room
Listen:
A first-run movie theater will open in downtown Tucson Friday, the first time in 40 years the central business and entertainment district has had one.
The Screening Room, an art-film house known as headquarters of the Arizona International Film Festival, will reopen at its Congress Street locale after an extensive renovation.
Plans are to show first-run movies, and that will be a first for downtown since the Fox Tucson Theatre stopped showing them and closed in 1974. The Fox has been renovated and reopened as a theater for a wide range of entertainment, including classic movies.
Upgrades to The Screening Room include a wall-to-wall screen, new sound system, new projector, new seats and a new expanded concession stand.
"Grand Cinemas has partnered with Arizona Media Arts Center to bring movies to downtown Tucson seven days a week," said Pattie Thomas, manager of The Screening Room.
She said the theater will fill a need for more entertainment in the burgeoning downtown area.
"We're looking to bring newer movies downtown, easy accessibility and, of course, something to do other than just eating...you know, another activity to the downtown area," she said.
The theater opens with The Sax Man, a 2014 Arizona International Film Festival winner for best music documentary, and Joan Rivers: A Piece of Work, a documentary on the late comedian.
The official opening under the new partnership is scheduled for Oct. 3.