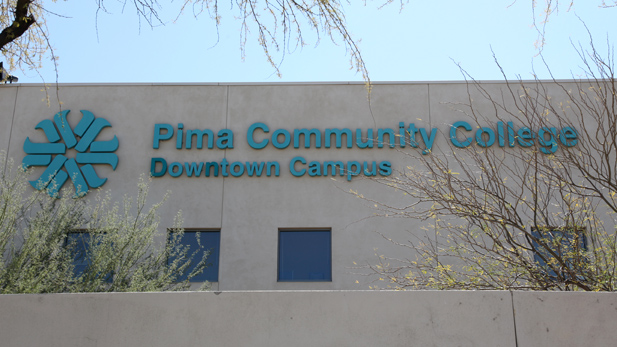 Pima Community College Downtown Campus

Fernanda Echavarri, AZPM
Pima Community College's accrediting agency will be in town next week for a series of campus and community meetings, a news release from PCC's office said.
Students, faculty, staff and others will have a chance to meet with the Higher Learning Commission Monday through Wednesday at any of the seven gatherings that will take place throughout PCC's campuses around town.
The commission's site evaluation team will meet with the Pima Governing Board Monday morning.
The commission's visit will be to evaluate Pima's progress in responding to concerns raised when PCC was placed on probation.
Pima has been involved in ongoing efforts to retain its accreditation and get off probation.
The college was placed on probation in April 2013 after the accrediting agency documented problems with the college's administration, finance and governance.
Pima submitted a self-study to the commission in July.
While on probation, Pima remains fully accredited.
MEETINGS SCHEDULE

Sept. 15
Forum at PCC'S District Office's Community Board Room, 4905 E. Broadway Blvd., from 4:30 p.m. to 5:30 p.m.

Sept. 16
Drop in meetings for community members, students, faculty:

- Community Campus, 401 N. Bonita Ave., from 9:30 a.m. to 10 a.m.
- Desert Vista Campus, , 5901 S. Calle Santa Cruz, from 9:30 a.m. to 10 a.m.
- Downtown Campus, 1255 N. Stone Ave., from 4 p.m. to 4:45 p.m.
- East Campus, 8181 E. Irvington Road, from 2 p.m. to 2:30 p.m.
- Northwest Campus, 7600 N. Shannon Road, from 4:30 p.m. to 5:15 p.m.
- West Campus, 2202 W. Anklam Road, from 4 p.m. to 4:45 p.m.