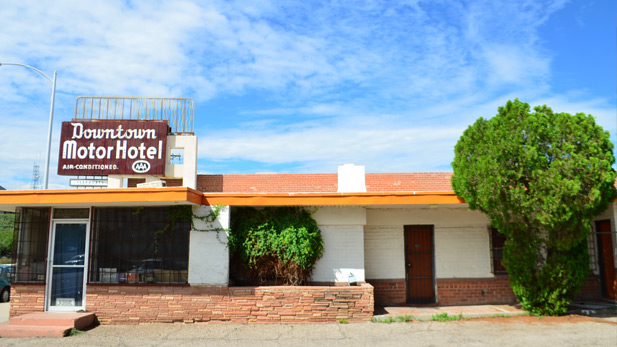 Maria Inés Taracena, AZPM
Listen:
Questions are arising about the planned demolition of the Downtown Motor Hotel and construction of low-income housing and housing for homeless veterans in its place.
The building and its iconic sign are located on south Stone Avenue between 14th and 15th Streets. Although vacant and in disrepair for years, the defunct hotel was designed by Josias Joesler, and opponents of the demolition call it an important part of Tucson's architectural history.
"If they just tear all these things down, we're going to end up with a very homogenized architectural element that happens here," said Gary Patch, who lives in the neighborhood. "I keep saying it's going the way of Phoenix."
Patch said he would prefer the developer to build on any one of a number of vacant lots in the area. Compass Affordable Housing bought the Downtown Motor Hotel earlier this year for $685,000, according to an affidavit filed with the Pima County Recorder.
City Councilman Steve Kozachik has thrown his weight behind the project and said the developer will have to preserve parts of the façade, as well as the sign. He said Compass has received clearance from the state office of historical preservation and informed neighborhood associations of its plans.
"They've checked all the right boxes and I think it's probably a good thing that we preserve what we can when we can and put the rest of it to good use," Kozachik said.
Patch said he and his neighbors were never informed about Compass' project and only learned about it from a news article earlier this summer.
Compass did not respond to several attempts to contact them.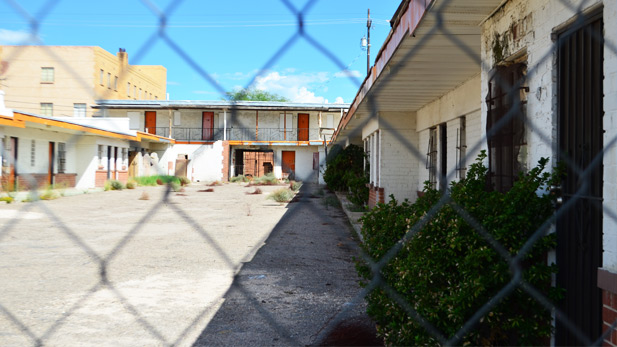 Courtyard of Downtown Motor Hotel.

Maria Inés Taracena, AZPM