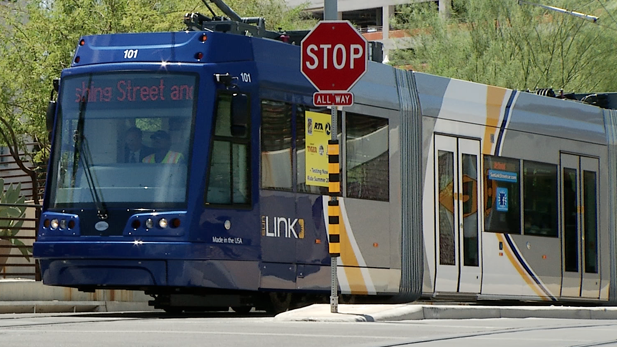 Tucson's streetcar emerges from the Fourth Avenue underpass.

Bob Lindberg, AZPM
Story by Alison Dorf
Listen:
Less than two months into its operation, the Tucson Modern Streetcar is exceeding expectations among both city officials and local businesses.
Streetcar Project Manager Shellie Ginn said that, although the initial number of riders fell in line with expectations of 3,600 passengers per day, ridership has nearly doubled since classes began at the University of Arizona.
By the first week of September, the streetcar was averaging roughly 5,000 per day, and continues to have a high volume of riders.
But Ginn said it's not just students using the new transportation system.
"Well, what really is exciting to me is that it's not just one type of rider…It's exciting to see every generation's out there – families, young people...university students, working class, people who are attending events, social events, cultural events, athletic events," she said.
Paula Wilk, a retired Tucson resident who lives in Armory Park, said she uses the streetcar to travel downtown. While waiting at a stop on Congress Street, she explained its benefits.
"One thing I think it may do in the long-run, particularly if it's expanded, is help people think more about mass transportation, and finding ways to live and get around that, let them walk and meet each other, and use the smaller stores that are all around and the restaurants," she said. "So, I think it's likely to build a good sense of community, as well as just being a good means of transportation."
A big number of streetcar passengers also means more people visiting businesses along the streetcar lines.
Kim Bower, general manager of the restaurant Proper, located on Congress Avenue, said business has significantly increased compared to this time last year – something she said she attributes to the streetcar.
"There's just a lot more foot traffic down here, there's a lot more people down here, even during the week when we're...typically Monday through Thursday when we haven't seen a lot of people down here. I mean compared to last year, it's almost double I'd say," she said.
Some streetcar riders say that, although the streetcar is convenient, the price could be a deterrent.
Though the cost of the streetcar is $1.50 each way, kiosks located at the stops only sell day passes for $4 each. Riders can purchase what is called a SunGO card, which are re-loadable passes that are charged $1.50 per ride, at Ronstadt Transit Center downtown or online.
Ginn said officials have received complaints regarding passes, and are utilizing customer service to educate the public about how to purchase re-loadable passes. She said there have been enough complaints from the public to begin investigation on the cost of adding full-service vending machines that sell different passes in each part of the route, but they are very expensive.
Alison Dorf is a University of Arizona School of Journalism student and an intern at Arizona Public Media