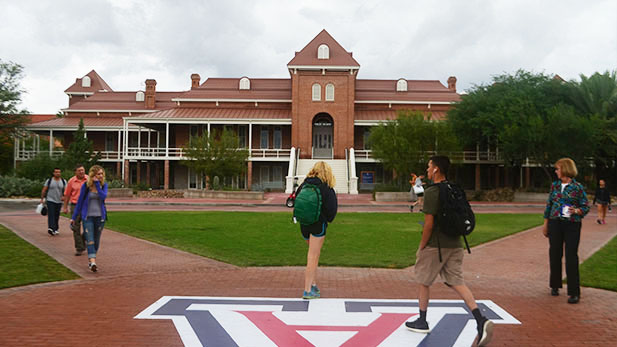 University of Arizona students walk by the Old Main.

Maria Inés Taracena, AZPM
Listen:
The Arizona College Application campaign gets underway today, and it hopes to get every high school senior in Arizona to submit at least one college application.
Last year, the Arizona Commission for Postsecondary Education piloted the project in eight schools across the state. This year, they're expanding it to 50.
April Osborne, the organizations's executive director, said one of the main impediments stopping students from applying to college is the complexity of the process. Many have parents, who themselves, don't know how to navigate their way through admissions and financial aid applications.
"The great thing about this program is, the high schools are taking on some of that roll of providing the experienced adults to help these young people really fulfill their future," she said.
High schools that signed up for the campaign will set aside a day in November to give seniors help completing online applications. Students get access to computers and internet, and adults will be close by to help with any questions.
Arizona has some of the lowest college-going and college-attainment rates in the country, with about 54 percent of seniors going onto college and only 26 percent of Arizonans over 25 holding a bachelor's degree or higher.
Osborne said she'd like her campaign to reach every high school senior in Arizona in the next four years.