The State Board of Education has selected a new test for assessing Arizona's public school students in alignment with the Common Core teaching standards.
The board chose a Washington-based organization to provide AzMerit, Arizona's Measurement of Educational Readiness to Inform Teaching, to replace the current exam, known as AIMS.
The board announced Monday that students in Arizona's public schools will begin taking the new test next spring.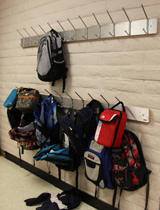 (PHOTO: Fernanda Echavarri)
"This assessment will provide reliable and timely information to parents, teachers and policy makers to support our schools, as they help prepare Arizona students for success in life, in career and in college," said Thomas Tyree, board president.
The test will be used to asses students' comprehension of reading, writing and mathematics, according to the Arizona Department of Education.
AzMerit's role in schools' overall A-F grades is still being discussed, state officials said.
A group of seven volunteer experts from Arizona's education community, all of whom are employees of local schools and organizations, selected the test out of six proposals, according to the State Board of Education.
The evaluation team unanimously recommended the nonprofit American Institutes for Research to administer the test.