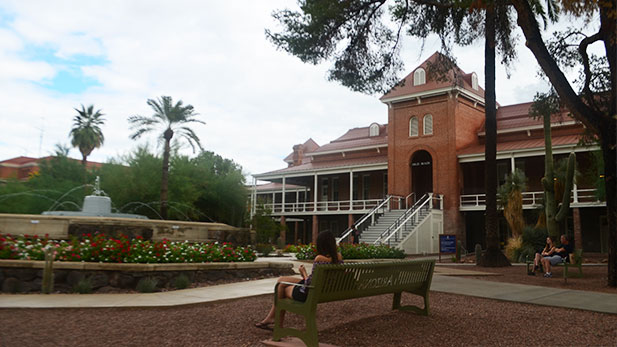 Students sit on benches at the front entrance of Old Main.

Maria Inés Taracena, AZPM
Listen:
State funding to Arizona's three public universities has dropped steeply since 2008. And though the next fiscal year doesn't start until July, there are already murmurs about how the new state Legislature will divvy up state funds – including how much money will go to higher education.
University of Arizona President Ann Weaver Hart said she's disappointed by how her institution fared this year in terms of state funding – particularly by the lack of support for its veterinary school and biomedical sciences.

"...it was a disappointment that the state chose not to invest in those areas that are mission critical for us," she said.
Hart said the limited state funding forced the university to take a careful look at its own budget.
"...we reallocated about $20 million internally from administrative costs to our core activities of engaging, innovating and partnering," she said.
And while some programs that Hart's prioritized benefited from the reallocation, others lost out. She said the budgeting process is extremely difficult.
"Because for every 'yes,' there's a 'no' that goes with it," she said. "None of these decisions are good versus evil. They are what is the best optimization of the potential of the University of Arizona."
Her budgeting decisions led to some criticism of Hart's leadership this summer. But to Hart, that's part of the gig.
"I didn't come here thinking that this was going to be an easy job," she said. "But I did know from the very beginning that the potential for positive impact was tremendous. And I'm very excited about the progress we've made so far."
Does Hart expect the budgeting process will be any easier next year?
"Not at all. I think that the challenges that Arizona faces are widely known," she said.
Despite the financial constraints, Hart pointed to a few signs of progress: Implementation of her strategic plan, surpassing the billion-dollar mark in the largest fundraising campaign in UA history and record enrollment.