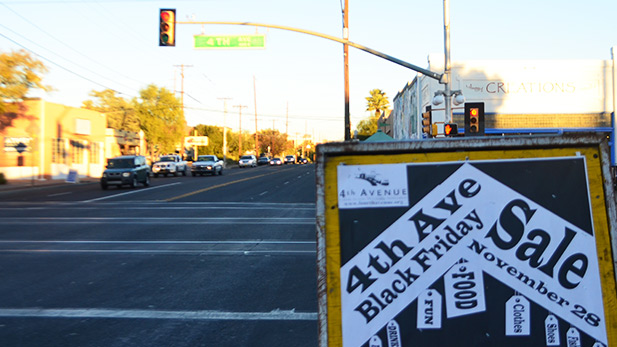 Merchants on Fourth Avenue will be part of Black Friday specials this Thanksgiving weekend.

Maria Inés Taracena, AZPM
Listen:
It's the same every year: stores declaring the holiday shopping season in full swing, even before Thanksgiving leftovers have been cleared.
Target and Macy's will open at 6 p.m. Thursday and won't close till late Friday night. Kmart's doors will glide open at 6 a.m. on Thanksgiving for a shopping marathon that'll last until midnight Friday.
But some shops around Tucson take a different approach – as a matter of principle

"I believe people should be home for Thanksgiving," said Alok Appadurai, co-founder of downtown Tucson's Fed By Threads. "I wanna be home. We will not be here. The doors will be locked."
Fed by Threads carries organic, sustainable clothing, manufactured in the U.S. It's one of the shops that Tucson Mayor Jonathan Rothschild is hoping to support by declaring this holiday season "Buy Local Month."
Erika Mitnik-White, Southern Arizona director for Local First Arizona - which brought the idea to the mayor's office - said there is a direct economic impact when people shop in local stores.
"For every $100 you spend, up to $43 will stay right here. As opposed to when you shop at a chain store, only about $13 of that money stays here in our community," she said.
Mitnik-White said it's not just about the amount of money that's spent in a local store.
"The money doesn't just stay here. It recirculates. It creates more jobs. It adds to our tax base by providing more services," she said. "So, when you choose to buy local, you're not just giving a gift to somebody else. You're also giving it to the community."
Appadurai agreed, saying he thinks buying local is becoming more mainstream.

But Mitnik-White pointed to one reason that so many people still opt to shop in a chain store:
"There's a real misconception that shopping local costs more. That it's more expensive to do. And so frequently that's not the case," she said.
Regardless of prices throughout the year, many national retailers attract shoppers by slashing prices during the holiday season.
Appadurai said he'll be running sales as well, but they might not have the same pull as the ones at a chain store.
"You know for us a 10 or 20 percent sale is the same as a 40 or 50 percent sale at the big retailers," he said. "And the reason for that is, we don't jack up prices so we can parachute prices. I could be jacking up prices much higher for what we do, but part of my goal is that prices are also accessible."
Although Fed by Threads will be closed on Thanksgiving – and won't be offering any 40 or 50 percent discounts any time soon - Appadurai said he expects to do well in the next month.
And if his expectations pan out, that'll be good news for Fed By Threads – and for the Tucson economy, too.