Listen:
Republican Diane Douglas has not taken office as Arizona's superintendent of public instruction, but she is already facing a recall campaign.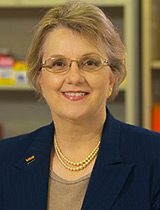 Diane Douglas
"Recall Diane Douglas" is an official political committee. Nearly 10,000 people have joined the Facebook page, and founder Anthony Espinoza said there are volunteers across the state preparing for the recall.
"We believe that she is not qualified to be superintendent of public instruction," Espinoza said. "I believe that she won because she has an 'R' next to her name and voters may not have known who she was, she hid from everyone."
To get the a recall election on the ballot the group will need more than 350,000 signatures, and they cannot be collected until after Douglas has been in office for six months, Espinoza said.
Douglas, a former Peoria school board member, won the November election by one percentage point, or 16,000 votes, defeating Democratic candidate David Garcia.
Douglas did not respond to a request for comment.