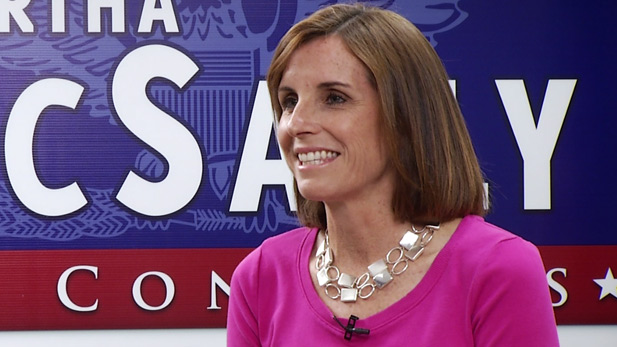 U.S. Rep.-Elect Martha McSally, R-Ariz.
Republican Martha McSally won the seat in Arizona's 2nd Congressional District, the recount confirmed Wednesday. It was the last congressional race to be decided in the country.
McSally beat one-term Democratic incumbent Ron Barber by 167 votes in a contest declared final 43 days after the election. That is six votes more than the margin McSally held when the vote count was completed originally.
The final totals were 109,714 votes for McSally and 109,547 votes for Barber, a margin of 0.08 percent. McSally had 50.04 percent of the vote, and Barber 49.96 percent.
McSally said in an interview Wednesday she needs to hit the ground running.
"There's a lot of technical things that we need to do for office space and equipment and case files and things that we'll be working on," McSally said, "and we're conducting interviews for hiring staff and doing everything we can to be up and running by the time I take the oath on Jan. 6."
That will include taking on at least some of the open constituent services cases now being handled by Barber and his staff. Barber said in conceding the election to McSally that he will help make for a smooth transition.
In a statement, McSally thanked Barber "for his service over many years to Southern Arizona. I'll be seeking his input to continue strong constituent services and help ensure a smooth transition."
In his own statement, Barber congratulated McSally.
"Today I congratulated Martha McSally on her victory, and wished her well in serving Southern Arizonans," Barber's statement said. "This result is not the one we hoped for, but we take solace in having spoken out loud and clear for the principle that every legal vote should be counted."
That was a reference to Barber's legal team seeking, unsuccessfully, to have about 133 disqualified ballots counted. His statement of concession indicated he won't pursue further legal challenges to the outcome.
The race went to a state-required recount because the margin between the two candidates following the Dec. 1 certification and canvass was fewer than 200 votes.
McSally's victory gives Republicans 247 seats in the U.S. House of Representatives, to 188 for Democrats. That is the largest number of seats held by one party in Congress since 1928, the National Republican Congressional Committee said in a statement.
McSally has been through congressional freshman orientation sessions already, including meetings with Republican Party congressional leaders and getting her committee assignments, including the House Armed Services Committee.
It was her second round of orientation. The retired Air Force colonel and fighter pilot undertook the orientation in 2012 when the outcome of her race against Barber was still in doubt. She lost to him by 2,400 votes.
McSally said after this year's election that the time between then and now allowed her to get more up to speed on the issues and take a more critical look at Barber's record.
She campaigned on her military leadership experience, her desire to protect military installations in the Southern Arizona district and to bring about economic improvements and better border security. She criticized Barber and his record on all those issues and more.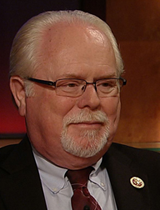 U.S. Rep. Ron Barber, D-Ariz. (PHOTO: AZPM)
Barber campaigned on what he said was his record of protecting middle-class families and seniors, going against his Democratic Party for the good of the district and insisting that border security be determined by the people who live along it. He criticized McSally for her stated support of a 2012 GOP budget proposal that would have cut Medicare and privatized Social Security.
McSally, 48, was the first woman to serve as a combat pilot and the first woman to command a fighter unit, the 354th Fighter Squadron of A-10s at Tucson's Davis-Monthan Air Force Base.
She won a lawsuit against the Pentagon in 2001, ending the requirement that U.S. servicewomen wear traditional religious garb when off base in Saudi Arabia.
She was born in Rhode Island, graduated from the U.S. Air Force Academy and earned a master's degree from Harvard University's John F. Kennedy School of Government. She served 22 years in the Air Force, retiring in 2010.
McSally first ran for Congress in the 2012 special election to fill the seat vacated when Democrat Gabrielle Giffords resigned. McSally lost the Republican primary to Jesse Kelly, who subsequently lost to Barber in the June 2012 balloting.
She won the Republican primary that fall before losing to Barber in the November 2012 general election, for which the vote count took 11 days to reach a conclusion.
Barber, 69, directed Giffords' district office during her five years in Congress. He, Giffords and 17 other people were shot, including six who died, outside a suburban supermarket Jan. 8, 2011 at a Giffords' meeting with constituents.
He won the 2nd Congressional District seat over Kelly in the June 2012 special election to complete what was Giffords' third term, and he won the general election over McSally that fall.
Before working for Giffords, Barber was director and program manager of the Arizona Division of Developmental Disabilities in Tucson.