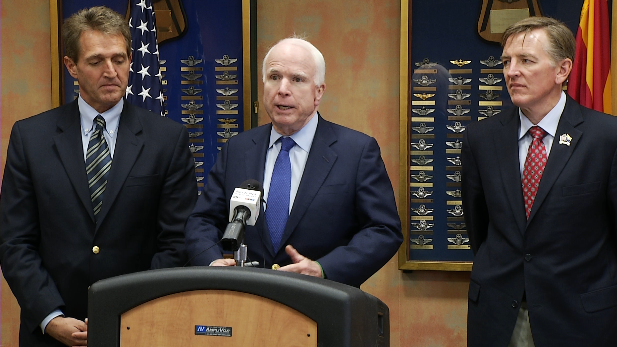 Sens. Jeff Flake (left) and John McCain (center) and Rep. Paul Gosar, at Davis-Monthan Air Force Base Dec. 18, 2014.

Andrew Brown, AZPM
Listen:
Arizona's U.S. senators pledged Thursday to protect Tucson's Davis-Monthan Air Force Base and the A-10 airplane based there.
On a visit to the base, Republican Sens. John McCain and Jeff Flake, along with Republican U.S. Rep. Paul Gosar, called the plane essential to the U.S. military.
McCain is expected to be chair of the Senate Armed Services Committee next year and said he will hold hearings about the future of the A-10, which the Air Force has marked for retirement.
McCain said that's premature.
"The problem is that the Air Force was talking about retiring it and saying they would replace it with the B-1 Bomber, which by the way the cost per operating hour would be at least 20 times what the A-10 is, and then they were talking about the F-35," he said.
"The A-10 costs $15 million, the F-35 costs over $100 million, so none of it that the Air Force was saying would make sense," McCain said. "And we still have to have a viable, strong air-to-ground mission capability, and I think the conditions, the situation in Iraq clearly indicates that."
McCain said changing budgeting procedures will be atop the agenda when the new Congress assembles.
"You have to set priorities, and the first thing we have to do is repeal sequestration so we can relieve these pressures on the draconian cuts that have been inflicted on defense as the world has grown more dangerous," he said.
The sequestration cuts were across-the-board spending reductions that Congress put in place as a way of getting it to pass more realistic budgets.
The Republican delegation also visited other military installations in the state, including Fort Huachuca.