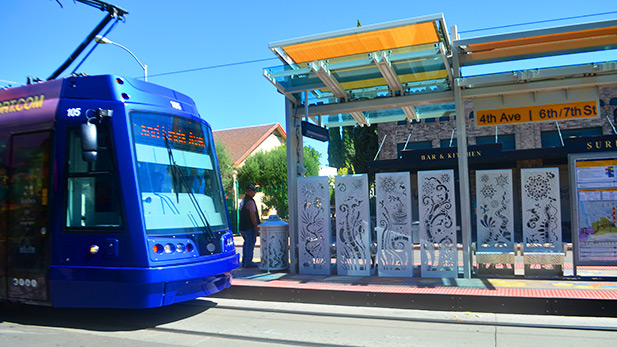 Tucson Streetcar stop on Fourth Avenue.

Maria Inés Taracena, AZPM
Listen:
Tucson's streetcar carried fewer passengers than anticipated in the last two months of the year, and Tucson's transit administrator said the reduction was expected.
In December, the University of Arizona semester ended, and big events that were expected to draw riders landed on days with rain, reducing ridership, said Jeremy Papuga, the city's transit administrator.
When the streetcar launched in July, the city said it expected about 3,600 paid trips a day, or about 108,000 a month. It exceeded that number with 120,000 to 130,000 each in August, September and October, Papuga said.
In November, the streetcar carried about 107,000 passengers, and the number fell to about 80,000 in December.
"We know that a large percentage of our ridership is associated with the university, so that wasn't a surprise," he said. "We did think that our ridership in December would be buoyed by a couple of events, one being New Years Eve, and the other being the winter Fourth Avenue Street Fair, both of which had inclement weather this year, unfortunately."
November had two holidays, Veteran's Day and Thanksgiving, and five Sundays, said Jeremy Papuga, the city's transit administrator. Sundays typically have the fewest riders, so that brought down the numbers.
The city is continuing to watch ridership numbers and plans to make adjustments to the schedule as necessary, as it has already done, he said.
The next big event the city is monitoring for streetcar ridership is the annual spate of gem and mineral shows downtown in February.