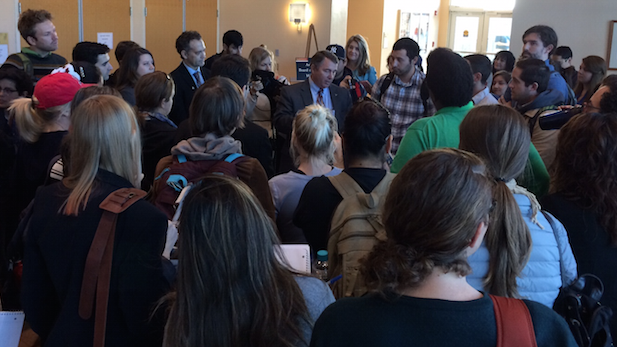 Arizona Board of Regents Chairman Mark Killian (center) meets with University of Arizona students, Feb. 5, 2015.

Lorraine Rivera, AZPM
Listen:
Graduate students from the University of Arizona met with lawmakers at the state Capitol last week to discuss proposed budget cuts to higher education.
The students' message was clear: It's already difficult to be a grad student at the UA, and further cuts would make it nearly impossible.
"As of right now, I've accrued about $65,000 of student debt ..." said Ph.D. student Kyle Blessinger. "I work three jobs and teach a class on top of that. I can't live off of $304 every two weeks."
The cuts are imminent, and legislators told the students the state's three universities could end up losing more than the $75 million Gov. Doug Ducey proposed, up to as much as $100 million.
How cuts would affect graduate student's isn't known.
Zachary Brooks, president of the UA's Graduate and Professional Student Council, said investment in universities isn't just about education; it's about the state's future.
"We're trying to tell personal stories but relate it to the bigger picture," Brooks said. "How does the state of Arizona want to invest in itself for the long term, to have great people who want to live here, buy homes, build businesses, those kinds of things?