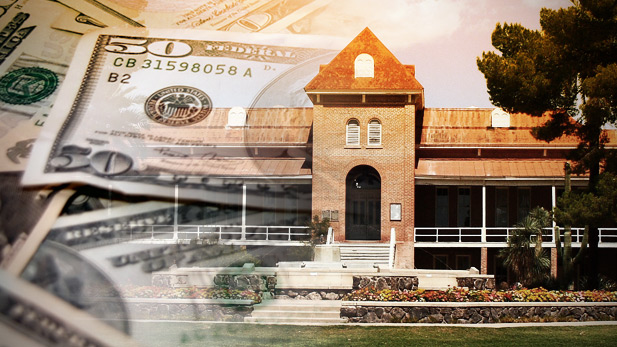 AZPM Staff
Listen:
The state's university system may take a $104 million cut in state funding next fiscal year, about $27 million more than in Gov. Doug Ducey's January budget proposal.
Republican leaders and Ducey agreed to the cut from state funding for the state's three public universities. Ducey's original proposal called for a $77.5 million reduction, proportioned by university enrollment.
If the same proportion is kept with the larger cut, the University of Arizona could lose $28 million, Arizona State University $54 million and Northern Arizona University about $22 million.
UA President Ann Weaver Hart said she recognizes the state's budget difficulties, but does not want to see more fiscal harm come to higher education.

"There has been much discussion in recent days from many different fronts on the importance of investing in our universities and the significant value they provide to the state," Hart said in a prepared statement. "I continue to believe that higher education is critical for a prosperous future for Arizona."
The same budget deal would take all state funding from community colleges in Maricopa, Pinal and Pima counties, a potential loss of $18 million.
Rep. Eric Meyer, Democratic leader in the state House, said Arizonans have asked lawmakers to avoid cuts to higher education.
"And instead of doing that, that's right where the governor and the Republican leadership have gone," Meyer said. "There are other options out there that they're just not willing to take."
Board of Regents President Eileen Klein responded on Twitter to the cuts, saying they're "a giant step backward for our state. Bound to impact tuition, jobs."
Republican lawmakers declined several requests for comments.