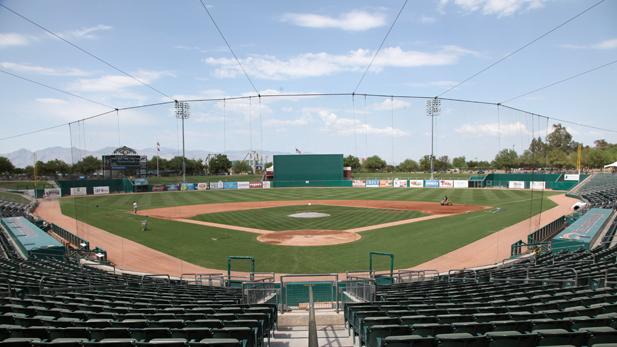 Crews work on the field at Kino Stadium during an off day.

Andrea Kelly
Listen:
The four teams from Liga Mexicana de Béisbol that traveled to Tucson for their preseason are set to play their first weekend of games at the Kino Sports Complex.
Mexican League Spring Training will feature a Friday night game, a Saturday doubleheader and a Sunday afternoon game through the rest of March.
"It's a AAA level," said event organizer Aaron Alcaraz, meaning the teams are one step below Major League Baseball.
"It's the only league outside the United States affiliated to Minor League Baseball," he added. Minor League Baseball is the official farm system for Major League Baseball.
The event is adding to the area's tourism industry, with the four teams occupying about 130 hotel rooms apiece for the entire month of March.
"If you're talking room nights, it's around 36,00 to 37,00, so it's a huge economic impact for [Pima County] and for Tucson," Alcaraz said.
Alcaraz also said he hopes the event will grow in future years, contributing more tourism dollars to the local economy.
The first game, Toros de Tijuana versus Tigres de Quintana Roo, starts at 7:00 p.m. Friday.