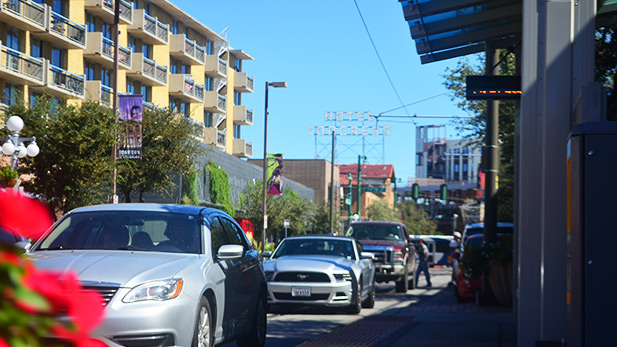 Traffic on Congress Street.

Maria Inés Taracena, AZPM
Listen:
Ridesharing apps have allowed normal drivers a way of entering the world of taxis and other ride-for-hire services.
Apps like Uber and Lyft allow those seeking transport to get in touch with approved drivers and arrange a ride to their destination.
But, for those in Arizona and other places, there's been one issue.
"As an Uber or Lyft or ridesharing driver, your personal insurance is not going to cover any crash or accident or if you hit somebody," said AAA Arizona's Valerie Vinyard. "Your personal insurance will not kick in if you're driving someone commercially."
AAA, as well as other insurance providers, take this stance when it comes to ridesharing drivers.
That led to a bill in Arizona last year that required ridesharing drivers carry commercial insurance.
But, Gov. Doug Ducey suspended enforcement of that law in January and asked lawmakers to come up with a cheaper alternative.
"It's not the same as a taxi or livery," said Andy Tobin, who is now the director of the Department of Weights and Measures, but was Arizona House Leader when the ridesharing law was passed. "It's our intent to treat everyone fairly, and it's our intent to make sure that the consumer is protected."
Now, new legislation would still require ridesharing drivers to carry commercial insurance, but it would allow for that insurance to be an amendment to a personal policy, bringing the cost down.
Similar laws are in place in California and Colorado.
Insurers in both of those states have begun offering ridesharing amendments to personal policies.
In Colorado, a ridesharing policy amendment through Farmer's Insurance costs around 25% of a driver's premium.
"One of the things we've been looking at is ridesharing and its explosive growth," said Farmer's spokesperson Mariel Dedesa. "It's really us saying, 'how do we best meet the needs of our customers and provide a product that covers them.'"
The Arizona House unanimously passed the new commercial insurance requirement, and the bill is now working its way through the Senate.
Political leaders see this as a way Arizona can be at the forefront of solving a new problem.
"Let's be a leader in the country, and find a way to make it work, and find a way at the same time to protect the consumer," said Weights and Measures Director Tobin.
MORE:
Arizona
,
Business
,
Pima County
,
Economy
,
Government
,
Jobs
,
Legislature
,
News
,
Technology
,
Transportation
,
Tucson
,
U.S.