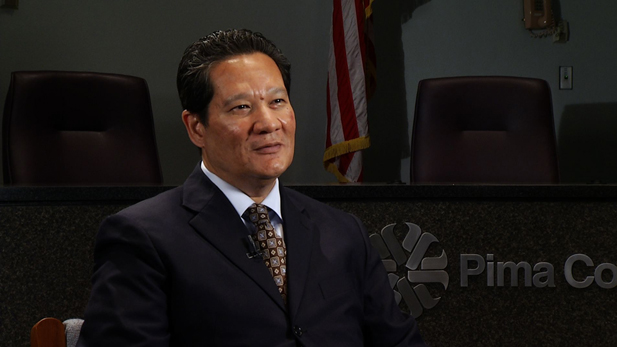 Pima Community College Chancellor Lee Lambert.

AZPM Staff
Listen:
Pima Community College is at a crossroads, Chancellor Lee Lambert has told the Tucson school's faculty and staff.
He said despite its recent removal from probation, Pima still faces a triple threat of troubles: continued scrutiny from its accreditor, the loss of state funding and a steep drop in enrollment.
Lambert called on every Pima staff member to do his or her part.
"We need all of you now to say, 'How can I help?'" he said.
Lambert made his remarks Friday in front of a gym packed with instructors, groundskeepers, counselors, administrators, board members and a handful of students.
He likened the rebuilding of Pima to the reconstruction of the World Trade Center, saying it will require time, patience, hard work and most important, cooperation.
Following his address, Lambert fielded prepared questions from a faculty member and a student about the loss of more than $7 million in state funding in the fiscal year that begins in July.
When asked about the prospect of layoffs, Lambert said he is working to mitigate the impact of budget cuts.
"But nobody can promise or guarantee a person a job," he said.