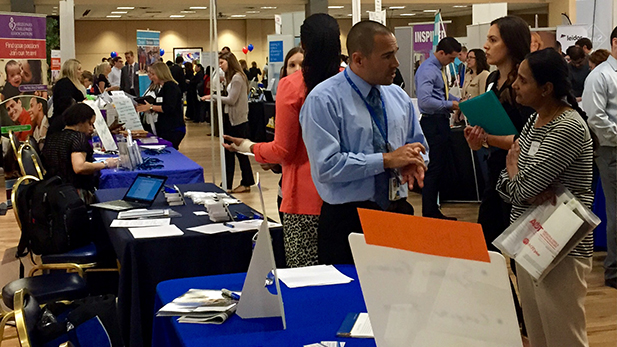 Local and national companies have more than 5,000 jobs and internships up for grabs at the UA's Spring Career Days.

Vanessa Barchfield, AZPM
Listen:
Students at the University of Arizona are dressing in their professional best this week to meet with prospective employers from across Arizona and the country.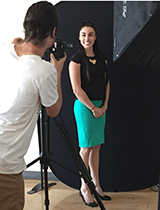 UA Sophomore Lysandra Gomez gets her professional headshot taken during 2015 Spring Career Days. (PHOTO: Vanessa Barchfield, AZPM)
Levi Hill, a sophomore majoring in computer science was waiting in a line in the Student Union ballroom - resume in hand - for a chance to meet with representatives from Apple, his dream employer.
Why did he come out today?
"I think I'm just trying to get some experience in front of some employers," he said. "Get my resume out – really trying to look for an internship this summer."
Apple was one of 160 companies taking part in the U of A's Spring Career Days.
Brooke Olsen, a recruiter at Triple Crown Consulting, said she expects to make a number of hires after this event. She is looking for what she called "people people."
"I don't care what's on your resume really, it's all about your personality," she explained. "Can you talk to people? Are you sincere, confident, articulate?"
Olsen and the other recruiters had about 3,800 full-time jobs and more than 1,400 internships up for grabs during the two-day event.
Spring Career Days continues Wednesday, April 1 from 11 a.m. to 4:30 p.m. in the Student Union Memorial Center third floor ballroom.