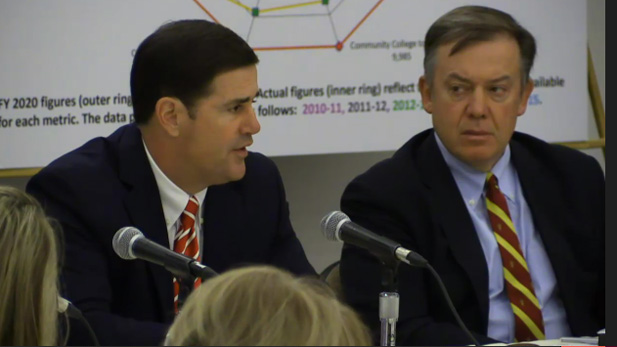 Governor Doug Ducey (left) and ASU President Michael Crow at the Arizona Board of Regents
Listen:
Arizona Governor Doug Ducey asked the Board of Regents today to develop a long-term, sustainable business plan for how the universities operate.
The meeting took place weeks after he signed a budget that cuts $100 million from the state's three public universities.
Ducey stressed the interdependence of education and economic development, and called on the Regents to seek input from the business community.
He also said the business plan should count on the state as only one of many investors.
"State support is not and cannot be the only financial driver for the future of our university system," he said.
Regents and university presidents said they welcomed the opportunity to develop a funding model that eliminates the year-to-year scramble for state money, but the sting of this year's cuts remains.
Regent Mark Killian said lawmakers have failed to recognize that universities have already begun operating more like businesses than state-run bureaucracies.
"My biggest frustration as a conservative is the lack of appreciation by my fellow conservatives in the legislature for what these institutions are and what they do," he said.
The universities will release their tuition proposals tomorrow, which are expected to partially compensate for the drop in state funding.