Listen:
Former Arizona Gov. Raúl Castro died Friday. He was 98.
Castro served as governor from 1975 to 1977, when he resigned to become U.S. ambassador to Argentina. He previously had served in other Latin American ambassadorships and was a former Pima County Superior Court judge and county attorney.
"It is with profound sorrow that I share the news that my beloved grandfather, Raúl H. Castro, has passed away," his grandson, Donald Daley III, said in a statement.
Castro was living with his daughter in San Diego and had recently gone into hospice care. He made his final public appearance at the Tucson Hispanic Chamber of Commerce annual awards banquet last October, where he was given the chamber's legacy award.
In an interview with Arizona Public Media's Lorraine Rivera just before he won the award, Castro recounted his life story, saying he was motivated to run for public office "so other Mexican-American kids could aspire for the same thing."
After earning his college degree from what is now Northern Arizona University, Castro said, he was unable to get a teaching job because of his ethnicity. He hit the road, became a boxer and returned to Douglas to work at the copper smelter for half the wages Anglo workers made.
He eventually enrolled in the University of Arizona College of Law, earned his degree in 1949 and practiced law before running for Pima County attorney. He later was elected a Superior Court judge and served as the county's Juvenile Court judge for several years. He made an unsuccessful run for governor as a Democrat in 1970, losing narrowly, then ran again in 1974, coming up victorious.
Pima County Supervisor Richard Elías remembered Friday going to rallies as a high school student during Castro's run for governor. They were often held at an old sports complex on Congress Street.
"The place was all made of wood, and boy, it was really rocking when the governor's people would get together there," Elías said.

Politically, Elías said Castro was a rare moderate in a time of outspoken conservative leaders such as Barry Goldwater and Gov. Jack Williams.
"He will also be remembered as a Latino who stepped up to the plate in an era where that was very difficult, but expectations were rising," Elías said.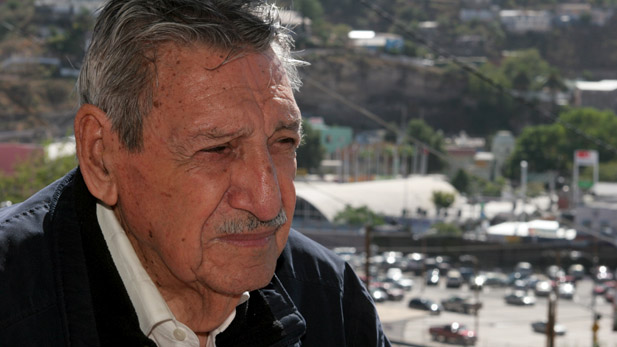 Raul H. Castro, Arizona governor from 1975 to 1977.

courtesy of Phil Soto
Castro was born in Cananea, Sonora, Mexico, June 12, 1916. His father was a copper miner who helped lead a strike and as a result was arrested and then deported to the United States with his family. Raúl Castro was a small child at the time. He recalled in his interview last fall how the family was welcomed to the country.
"We got the visas to go to Pirtleville, Ariz.," Castro said. "When the immigration officer finished with the paperwork, he said, 'Castro family, you are now in the United States of America. It's up to you,' meaning don't expect any handouts, any help. It's up to you."
Castro said he recalled walking with other children of Mexican descent five miles to school from Pirtleville to Douglas, while Anglo children were picked up by the public school bus.
Such occurrences were motivating rather than denigrating, he said, including even being told by other Mexican-Americans that he should not run for office because his ethnicity would keep him from being elected.
"Raúl H. Castro lived his life guided by the simple philosophy that if he treated other people with respect that he would earn their respect in return," his grandson's statement said. "He believed that a quality education brings us every opportunity in life, and well into his 90s he never hesitated to take the time to encourage young people to stay in school and pursue their professional and creative goals."
Gov. Doug Ducey issued a statement saying Castro's "life and legacy of service is forever ingrained in our history."
Ducey said he ordered flags at all state office buildings to be flown at half-staff in Castro's honor.
"Arizonans will never forget Gov. Castro," Ducey's statement said. "He was an honorable public servant, a history-maker, a beloved family man and a strong friend and fighter for Arizona."