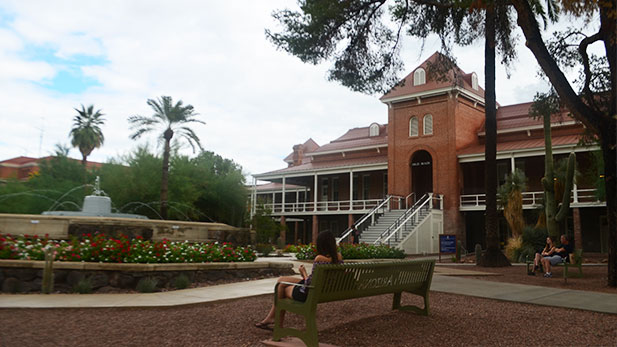 Students sit on benches at the front entrance of Old Main.

Maria Inés Taracena, AZPM
Listen:
The cost of studying at the University of Arizona next year will go up for most students, but not all.
Students finishing their freshman year next month entered the university on a guaranteed tuition plan. That means the price tag on their studies will not go up next year, or the two years after that.
UA Provost Andrew Comrie says about 20 percent of the sophomore class opted into the plan, which means they will also avoid an increase.
But everyone else on campus will pay more, assuming that the Board of Regents approves the tuition proposal that U of A President Ann Weaver Hart released earlier today.
Current in-state students who aren't on the guaranteed tuition plan will see an increase of less than 3 percent to $10,872.
Incoming freshman from Arizona will pay $11,403 – a rate that will be locked in for four years. Freshman from outside of Arizona will pay $32,630 - up 11 percent.
Comrie said that returning students who did not opt into the guaranteed tuition plan should not despair. The university is allowing them to opt in next academic year - at this year's price.
According the University, the tuition increase covers less than half of the nearly $29 million dollar cut in state funding. Comrie says the administration is trying to shield students from bearing the brunt of the cuts.
"The university will really be taking care of a lot of that on its own," he said. "Students are therefore really able to think of this tuition as their fair piece of investing in the U of A."
Together, Arizona's three public universities will lose nearly $100 in state money next year. When the cuts were announced, Arizona State University President Michael Crow said he would keep a promise not to increase in-state tuition. However the proposal released Friday calls for students to pay a one-year surcharge of $320 to fill a portion of the funding gap.
The Board of Regents is holding a public forum on April 20 to take comment on the proposals. Regents are expected to make final decision on tuition on May 4.
See a chart of all recommended tuition increases here.