St. David resident Don Buchanan (left) addresses the Benson City Council in front of a packed house Monday night, speaking against the Villages at Vigneto due to concerns over water use.

Zac Ziegler, AZPM
The Benson City Council Monday approved a preliminary plan for The Villages at Vigneto, a 28,000-house master-planned community.
The council voted 6-1, with Councilman Patrick Boyle dissenting.
"Over the years I've traveled to Southern California many, many times, and as I'm driving along I-8, I-10, I-5, all I see is endless hillsides just covered in developments exactly like this with no character involved," he said after the meeting.
Developer El Dorado Holdings will now submit a final development plan for approval of Benson's Planning and Zoning Commission and the City Council.
El Dorado Development Partner Mike Reinbold said his goal is to have that plan ready in about 30 days.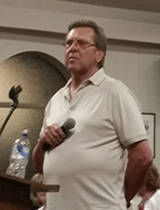 El Dorado Holdings development partner Mike Reinbold answers questions from the Benson City Council on Monday night.
Reinbold answered questions from council members prior to the vote.
He said the project has been approved by Army officials at Fort Huachuca and that Benson Hospital is planning an expansion to accompany the increased population.
Reinbold said his company water supply is assured.
Benson Mayor Toney King thanked Reinbold and praised him for his openness throughout the approval process when compared to past developers who wanted to build on the site.
"With our new developer now, I feel it's been a very honest relationship, and that's the biggest part right there is honesty," said King.
Prior to the vote, the public comment period was filled with citizens speaking against the project.
King pointed out that many of those speaking live in surrounding communities, and earlier open house meetings on the project included more people speaking in favor.