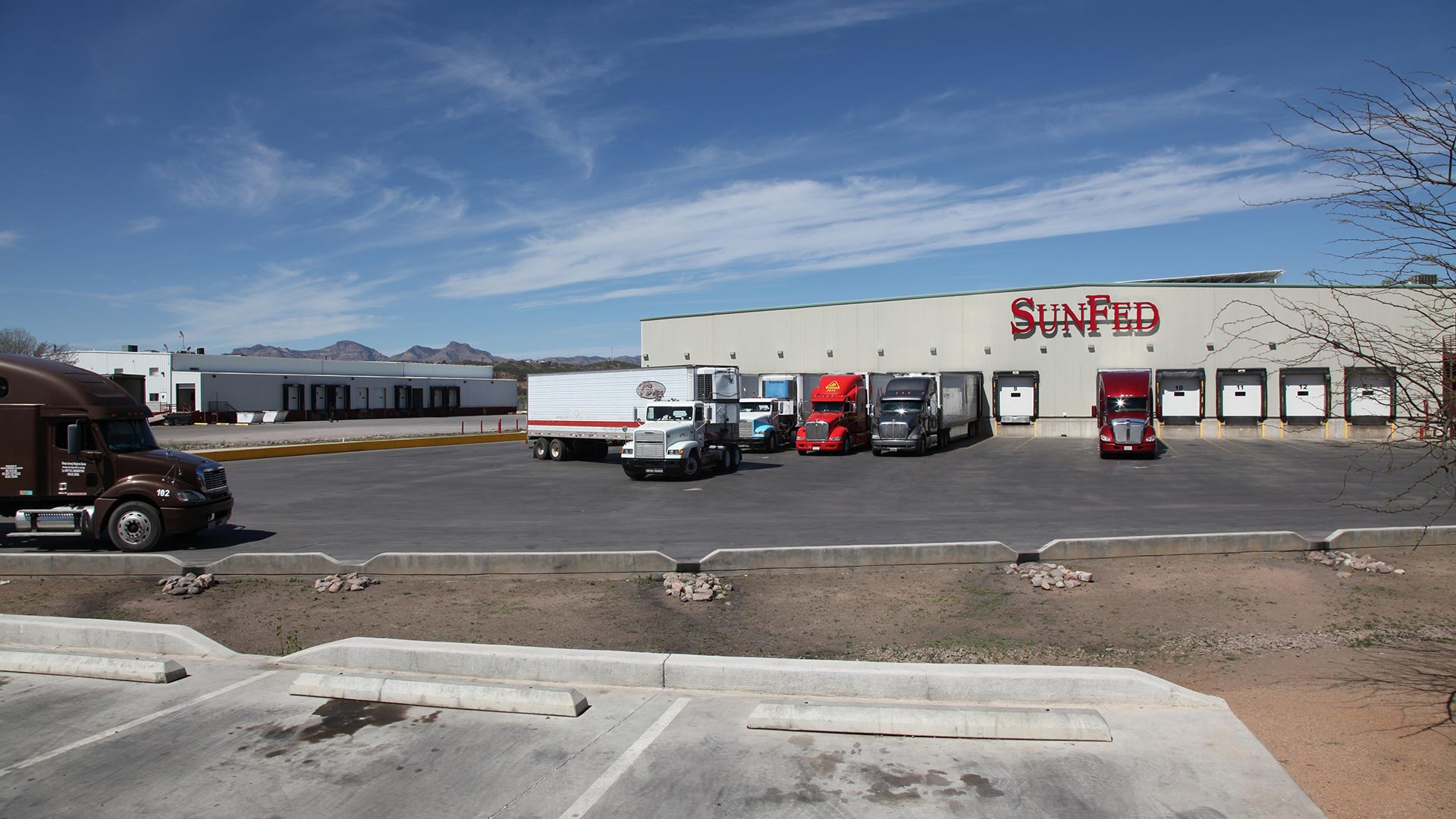 Agriculture transport trucks.
Zac Ziegler, AZPM
About 1,500 commercial trucks cross into the U.S. in Nogales each day, loaded with fresh produce.
Those trucks are bound for the produce warehouses that dot Santa Cruz County.
Warehouses like those of SunFed produce company.
"On slow days, we get about 30-35 trucks," said SunFed's Matt Mandel. "On busy days, we're easily over 100 trucks."
That's just trucks dropping off produce, not picking up. That number, Mandel said, is usually higher thanks to trucks that are only picking up partial loads.
Inside of Sunfed, electric hand trucks roll the floor, drivers beeping their horns, loading and unloading pallets stacked three to four feet high with a variety of fruits and vegetables.
"Every single pallet that comes in is going to be bar-coded so we know what it is, where it is, the truck it came in," said Mandel.
Technology helps SunFed work efficiently.
But a barrier to improvement remains the slow speed at which trucks can move through the Customs inspection station at the border.
That means the industry has had to come up with ways to preserve produce longer, including machines that pump in ozone gas to keep fruits and vegetables fresh. Air conditioning systems independently control each room based on what product is stored there.
"I think we're on the upper end of what's going on here in Nogales," said Mandel. "We have plenty of room to advance what we're doing here."
The amount of time it takes to get a truck across the border remains a problem, and as the industry grows, it worsens.
"Here in Arizona, we've seen the fresh produce business more than double in the past 14 years." - Lance Jungmeyer, president of the Fresh Produce Association of the Americas
Fresh produce imports have been a growing industry since the mid-90s when the North American Free Trade Agreement, or NAFTA, created trade partnerships among the U.S., Mexico and Canada.
Before NAFTA, imports and exports from one of those countries to another were often around $3-4 billion annually.
That's changed a lot in the last 20 years.
"Today, they're in the neighborhood of $18, 19, 20 billion dollars," said U.S. Department of Agriculture Economist Steven Zahniser.
And that growth may well continue.
"Here in Arizona, we've seen the fresh produce business more than double in the past 14 years," said Lance Jungmeyer, president of industry group Fresh Produce Association of the Americas. "And I expect that within 10 years, it will have doubled again."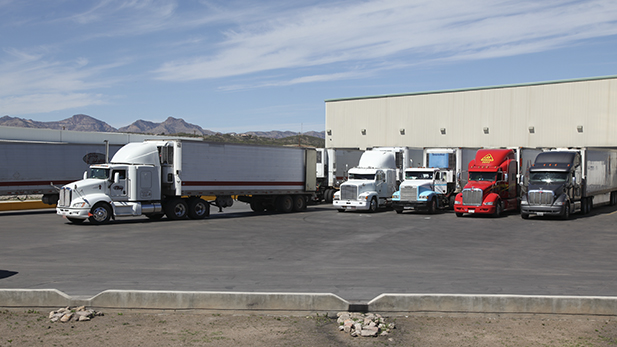 A busy day at produce importer SunFed's warehouse can mean 100 trucks unload fruits and vegetables during business hours.

Zac Ziegler, AZPM
With that much produce coming in, ports of entry can become a busy place.
"Last I checked, at the port of entry, somewhere around 40 different government agencies have access to our cargo when it's coming across the border," said SunFed's Mandel.
So, while the technology in the warehouses is crucial, technology at the ports of entry can be just as important.
That's where a coming advancement, known as a single-window system, can come in.
"It's a single point where one enters all of the information that is required by all regulatory agencies responsible for international trade," said Zahniser, the economist.
Instead of having to give each agency the information it wants, a worker from any agency would access the single-window system and get the data electronically.
"Trying to get all of [the government agency's] systems talking to one another would definitely improve the process," said Mandel. "I think that's really the biggest issue from the technology side of things."
This is just one of a handful of upgrades being discussed for ports of entry.
FPAA's Jungmeyer advocates for new pathogen detection rapid-testing equipment for food-borne pathogens such as salmonella, e. coli, listeria.
He said the small amount of produce that has to go through those tests now will sit for at best three to five days, but possibly as long as two weeks.
"The value of those goods, from a commercial standpoint and an edible standpoint, diminishes every second of every minute that goes by." - Matt Mandel, SunFed
At that point, most produce has spoiled, and is now a financial loss to the importer.
Whether it's decreasing border wait times or faster pathogen tests, even a small amount of time can have an effect.
"Shaving off hours can be crucial," said Mandel. "We're dealing with extremely perishable goods, and the value of those good, from a commercial standpoint and an edible standpoint, diminishes every second of every minute that goes by."
Ultimately, those involved in the industry see one low-tech solution that could make a world of difference: more inspectors on duty at the Mariposa Port of Entry to decrease wait times.
That may be coming, said a spokesman for U.S. Customs and Border Protection. The agency's Nogales sector, which includes the Mariposa and DeConcini ports of entry in Nogales, will have 120 new inspectors working by the end of the fiscal year, if all goes according to plan, the spokesman said.