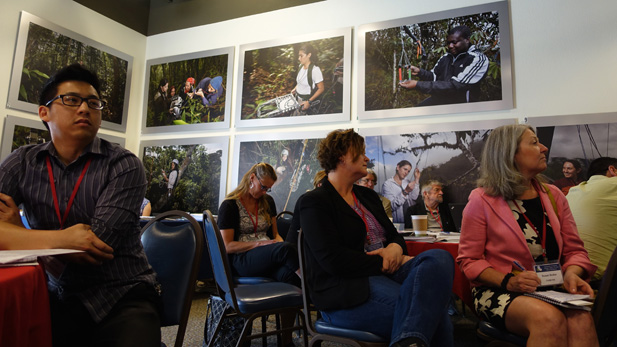 Participants at the workshop included representatives from academia, government and industry.

Vanessa Barchfield, Arizona Public Media
Listen:
A group of leading scientists, government officials and industry representatives are spending time together at the Biosphere 2 to discuss how to ensure that humans have sustainable access to food, water and energy.
Not just now, but for generations to come.
Neal Armstrong, University of Arizona associate vice president for research, said Thursday the challenges of drought, energy production and food security are all known. But they are often studied and dealt with as separate issues by people who are working independently.
"This is a workshop that is designed to bring people that don't normally talk to each other very much from industry, from academia and from government laboratories to deal with the fundamental scientific, technological and policy issues that surround what we call the energy, water, food nexus," he explained.
Armstrong said it is appropriate this meeting is happening in Tucson, where solutions to dealing with water shortages may be discovered, the sun's potential as a power source may be fully realized, and new technologies in agriculture may help feed the world's population.
"In many respects, Arizona is the unique laboratory," Armstrong said. "Whether you like it or not, you're living in the unique laboratory, where we are going to have to get the nexus of energy, water and food right. We have no choice."