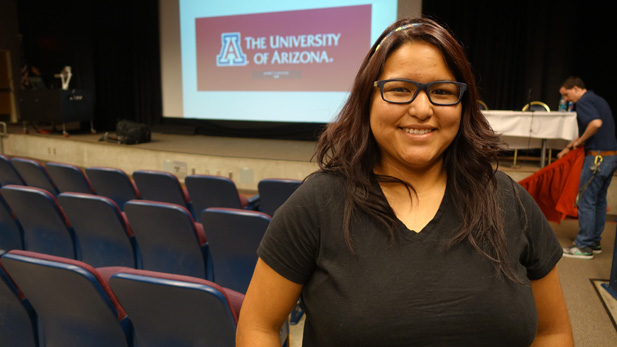 22-year-old Ana Rodriguez asked the Arizona Board of Regents to grant in-state tuition to DACA recipients like herself.

Vanessa Barchfield, Arizona Public Media
Listen:
Undocumented students who receive temporary work permits through the Deferred Action for Childhood Arrival program, or DACA, have been paying out-of-state tuition at Arizona's three public universities.
That could change next academic year.
The students, who call themselves dreamers, have long lobbied for in-state tuition, which would cut the cost of university education from about $30,000 each year to closer to $10,000.
But the Arizona university system has denied their request, even after 2012, when President Barack Obama introduced the DACA program that gives young people a temporary work permit if they were brought to the U.S. as children, are here illegally and meet certain eligibility requirements.
While the possibility of in-state tuition is still off the table, DACA recipients' tuition bills could be cut in half if the Board of Regents adopts a proposal to charge dreamers 150% of what Arizona residents pay.

The Regents released details of the plan on Monday. It would apply to students who went to high school in Arizona for at least three years and graduated from a school in the state. The student would also have to be lawfully present in Arizona. Being a DACA recipient could qualify as such.
Comments from the public at a Board of Regents hearing on next year's tuition proposals were dominated by dreamers and their advocates.
Among them was Ana Rodriguez.
"I'm currently a student at Pima Community College," she said. "I'm going to graduate in May and I want to be a student at the U of A. I've applied a couple of times, been accepted both times. And it's just a matter of how to pay for it."
She says the proposal is a step in the right direction and she'd like the Regents adopt it.
"We do deserve in-state tuition. We have the documentation to prove it. We pay taxes. We are employed so we don't know what else we have to do to prove that we have residency here," Rodriguez said.
In 2006 Arizona voters approved a law that prohibits undocumented students from receiving in-state tuition or state scholarships of any kind.
Rodriguez, who is 22 years old and has lived in Arizona for the past 14 years, argues that law no longer applies because Obama's deferred action program grants her temporary legal status.
A number of community colleges in the state agree. In 2013, Pima Community College granted in-state tuition for students with DACA permits.
That same year, then-Regent Dennis DeConcini proposed charging dreamers 110% of in-state tuition, but that measure failed to gain traction with other board members.
Does the current proposal stand a better chance?
"I can't say which way I would vote or which way the board would vote," said Valerie Hanna, one of the two students on the Board of Regents.
She said she will be taking a careful look at the proposal before she decides which way to vote. The Board of Regents will discuss the proposal at a meeting on May 4 and are expected to vote in early June.
In the meantime, Ana Rodriguez said she and other dreamers will continue pushing for in-state tuition.
"I'm not just going to be hopeful and then cross my fingers and wait for it," Rodriguez said."No, I'm going to keep working towards it, like I have been for the past two years.