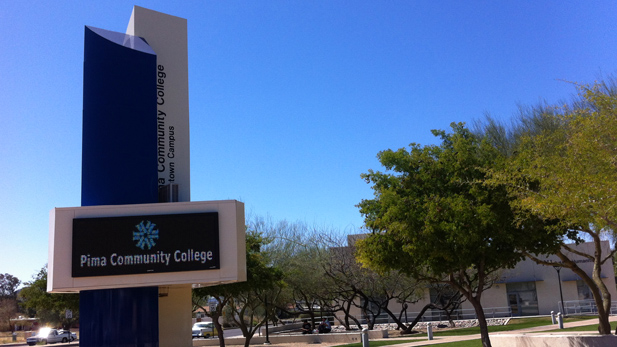 Pima Community College Downtown Campus.

Fernanda Echavarri, AZPM
Listen:
Pima Community College is eliminating three of its six campus presidents in a new administrative structure unveiled to faculty and staff Wednesday.
The changes will take effect July 1.
Under the new structure: - David Doré, who currently serves as president of the Northwest Campus will also oversee the Downtown Campus - Lorraine Morales, who heads the Community Campus will assume the responsibility for the East Campus - Desert Vista campus President Morgan Phillips take control of West Campus
Chancellor Lee Lambert said the college needs to reduce costs by $2.5 million dollars annually through the 2019 fiscal year. The elimination of these three six-figure salaries is part of that plan, and should save the college about $800,000 each year.
Executive Vice Chancellor for Finance and Administration David Bea said Pima needs to adapt to changing circumstances.
"This is the first step of changes that will happen at the college as we become more adaptive," he said. "Think continuous improvement with these kinds of things."
Chancellor Lambert said increasing enrollment will be a top priority. Enrollment has plunged in recent years and Pima will also lose all of its state funding – about $7 million - in the coming fiscal year.