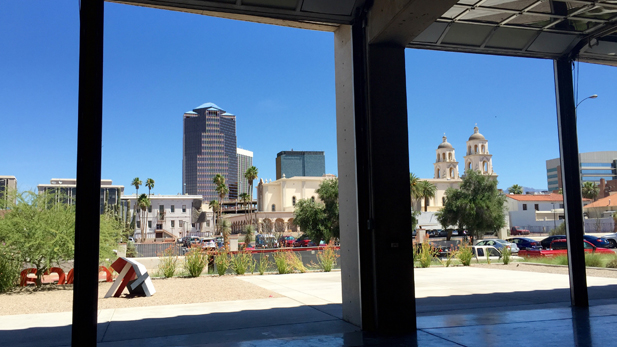 Downtown Tucson will provide the backdrop for MOCA's mobile pools this summer.

Vanessa Barchfield, Arizona Public Media
Listen:
Tucson's Museum of Contemporary Art had its busiest day ever Sunday, the last day it exhibited the works of local artist Robert Barber.
The museum hopes to make another big splash with its next installation: three temporary swimming pools.
"These are custom-built, completely code-compliant, street-legal mobile dumpster pools," said MOCA Curator Jocko Weyland.
Not tempted by the idea of jumping into a trash receptacle? Don't worry, these dumpsters have never been filled with trash – just water. They were originally placed in front of Grand Central Terminal, giving New Yorkers a rare opportunity to swim outside in midtown Manhattan.
Weyland said true to their origins, the display will be one of the only places to swim this summer in the heart of downtown Tucson.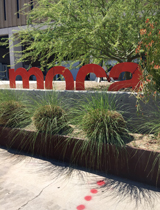 MOCA's mobile pools will be open to members from June 20th through September 26th. (PHOTO: Vanessa Barchfield, Arizona Public Media)
The pools measure 24 feet by eight feet each and will be connected by elevated decks. Weyland said all the amenities one would expect at a pool will be there - cabanas, towels and lifeguards - and some more unusual ones like an occasional film screening or musical performance.
Given their placement in a museum, are they meant to be art?
"What I like about them is that you don't have to say if they're art or not art," said Weyland. "They're swimming pools, and there's something so simple and wonderful about pools. It's like elemental."
And kind of essential during summer in Tucson.

The pools will be open for MOCA members June 20 through Sept. 26.