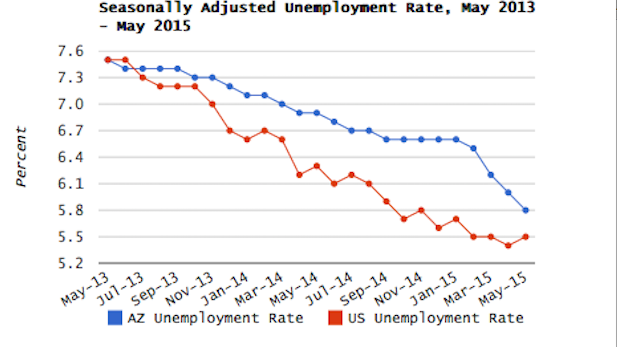 AZ Office of Employment Statistics
Listen:
Unemployment fell to 5.8 percent in Arizona last month, down from 6.0 percent in April, the state's employment statistics agency reported Thursday.
The nationwide unemployment rate in May was 5.5 percent.
The state lost 10,500 non-farm jobs, in a seasonal norm with school letting out. The private sector added 1,700 jobs to offset a loss of 12,200 in government and schools.
"This was more than both the post-recessionary average of 2,500 jobs and the 10-year average loss of 1,900 jobs," the report from the Office of Employment and Population Statistics said.
Six of the 11 major employment sectors lost jobs, with government, including education, down 12,200 positions and leisure and hospitality, mostly tourism, down 2,500.
Big gainers were professional and business services, up 2,600 jobs and health services, up 1,100.
Since May of last year, the state has gained 61,100 jobs, a 2.4 percent growth rate. The private sector added the most positions, 57,800.
In Pima County, the unemployment rate went from 5.1 percent in April to 4.9 percent in May, with 469,200 people working and 23,000 seeking work, the report said.