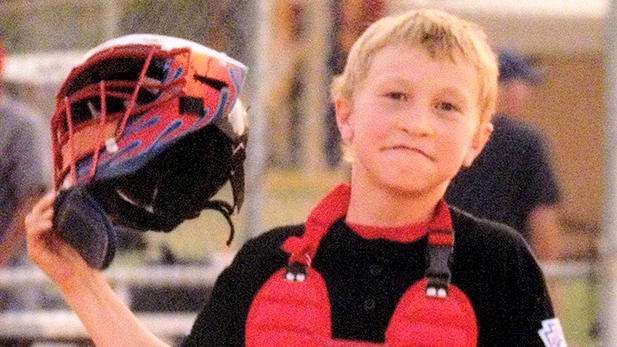 "He was always the one leading the chants in the dugouts for other players, the first one to do a backflip when someone had a great play," said Sherry Hoskinson of her son Harry.

Courtesy of Sherry Hoskinson
Listen:
Update, Nov. 19, 2015.
Voters in Pima County voted down all seven bond issues, including the one that would have funded renovations to Joaquin Murrieta Park. Sherry Hoskinson says she will continue to advocate for improvements to the park and for another bond election. Donations are still being collected in Harry's name. For more information email homerunsforharry@gmail.com
The Hoskinson family spent many afternoons and evenings on the un-shaded bleachers of Joaquin Murrieta Park watching Little League baseball.
The youngest son, Harry, was a talented catcher, "a wall" in the words of his mother Sherry Hoskinson.
"He was always the one leading the chants in the dugouts for other players, first one to do a backflip when someone had a great play," Hoskinson said.
When the 13-year-old died last year, Sherry Hoskinson asked in lieu of gifts, people donate to a memorial fund in her son's name.
The money would help improve the park that was Harry's home away from home for the five years he played Little League baseball.
"Harry's still mine and my relationship is not done," Hoskinson said. "Caring about the things he cared about is a way that I continue to recognize that."
West Side pride
More than 40 years ago, residents of Tucson's West Side marched on El Rio Golf Course and demanded public space for their neighborhood.
What they got was Joaquin Murrieta Park, 43 acres of open park land that became ball fields, playgrounds and ramadas. Not long after the park's creation, Western Little League made it their home field.
"I've talked to parents that played here 30 years ago, 40 years ago," said Little League Coach Dan Castro. "There's a lot of pride."
The park also had a lot of problems including outdated bathrooms, a lack of shade, a pool closed for years and sewer lines that were not fully documented.
"The fence was broken it was rusted out– kids were afraid of injury, parents were afraid of injury," said Ernest Armenta, a Western Little League parent and board member."Everybody accepted it because that's just the way it has been."
The poor turf conditions created "bad hops," baseballs that would fly up from the ground unexpectedly when they hit a dip or mound on the ground. At Joaquin Murrieta, the phenomenon became known as the "western bounce."
In 2013, the city created a park master plan– a wishlist of improvements costing almost $12 million.
The same year the plan was completed, Tucson predicted it would have a $15 million budget defecit. The next year the projected deficit more than doubled.
"It felt like it was an emergency, that there was actual bleeding happening," said Tucson City Council Member Regina Romero, who represents the westside. "We had to save as many jobs, as many services and prioritize as much as we possibly could."
Romero said the masterplan helped Joaquin Murrieta Park supporters submit a competitive proposal for the Pima County Bond. The park is now one of 99 projects that could receive funding if voters approve a temporary tax increase to borrow money to pay for them.
Joaquin Murrieta would get $5 million for new fields, ramadas, playgrounds and parking.
"Joaquin Murrieta, even though it has lots of need, it is highly used," Romero said.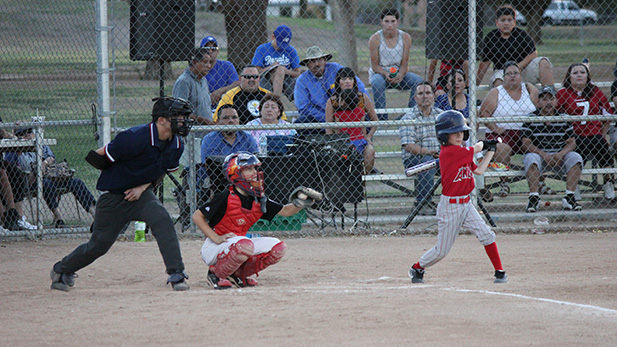 Hoskinson said her son Harry (catcher) planned to play professional baseball or football after joining the army.

Courtesy of Sherry Hoskinson
You see Harry out there
On a recent summer night, the fields at Joaquin Murrieta Park echoed with the ringing of baseballs on aluminum bats. The Western Little League Majors All Star Team was a week away from its first game.
Coach Castro pointed out recent improvements to the fields payed for with money from the Harry Hoskinson Memorial Fund. There's a new fence on one field and the infield grass has fewer patches and rocky spots.
"Not as many bad hops for our infielders, not as many sometimes dangerous jogs through the outfield," Castro said.
Castro didn't know the Hoskinsons personally before Harry died, but he said he remembered the catcher playing against his son.
"It's a tough loss for the Hoskinson family, but you know, we grieved with them," Castro said. "He still lives within all these little guys out here. You see Harry out there."
A video on the Little League's Facebook page shows a group of kids releasing a flock of blue balloons in Harry's memory. "Gone but not forgotten... Harry Hoskinson...Western little league sends love to heaven!" the caption reads.
One of the planned changes at Joaquin Murrieta is to name one of the fields for Harry.
Sherry Hoskinson keeps track of the league, but she hasn't returned to the bleachers at the park to watch a game since Harry died.
She has attended numerous public meetings in support of the Pima County bond issue. Her son, Lee Smythe is not surprised by her dedication to the park.
"Whatever she gets involved in, she's going to see it through to its fullest and she's going to be totally taken over by it," Smythe said.

In her office at work, Hoskinson keeps several figures of Captain America. The superhero's blond locks, honesty and integrity remind her of Harry.
"I don't want to just continue to look back for Harry.I want to be able to look ahead and look around." Hoskinson said. "I do keep track of the ways that Harry is in the world."