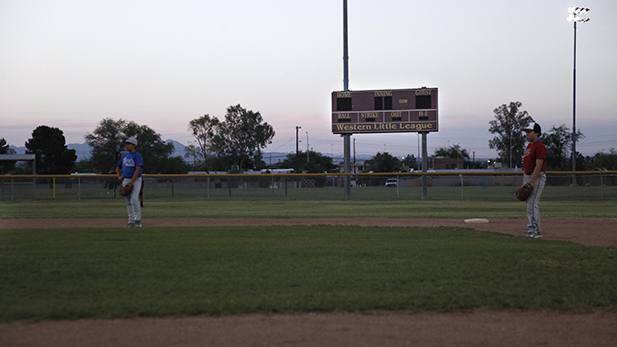 The Western Little League Majors All Star team practices at Joaquin Murrieta Park on June 19, 2015. The team will have its first state tournament game on Thursday, July 16 in Claypool, Ariz.

Mariana Dale, AZPM
Listen:
The competition is heating up for the state's little league baseball and softball teams.
On Monday, Pima County will host Western Regional Tournament for junior league softball players. Up to 12 teams from places including Hawaii to Montana will play for the chance to go to the World Series.
"Really you can feel not only the excitement of the girls who come in and travel that are competing for opportunity to go to world series up in Kirkland, Wash., but also the excitement of the fans the folks who get to watch these games at a very high level," said Carl Thompson, the administrator for district 5 Little League, who hosts the tournament.
He said last year's championship game drew close to 700 people. The regional winner, Sunnyside Little League, went on to win the World Series.
Tucson's Little League teams are broken into two districts with various age leagues for baseball and softball. The leagues compete with teams made up of the league's best players, the all stars. The overall winner in each district advances to the state and then regional tournament.
For example, the state tournament for Little League Majors baseball starts in Claypool, Ariz. this week.
"It's a lot of fun to watch the kids succeed and develop, especially the ones that have been together for a few years," said District 12 Administrator Earl Causbie.
For more information on game times and locations, visit the Arizona Little League website.