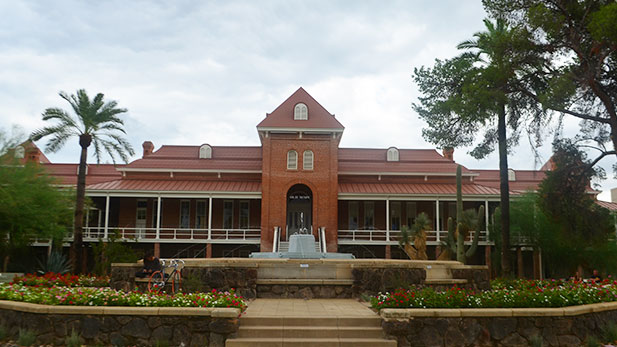 University of Arizona's Old Main.

Maria Inés Taracena, AZPM
Listen:
University of Arizona officials are asking students to download a new campus-wide safety app called LiveSafe onto their smart phones.
The app connects users directly with campus police in a more discrete way than ever before, said UAPD Chief Brian Seastone.
"If somebody's walking along and they see a disturbance but they don't want to be on the phone and...sound like they're calling the police, they can click on [the app]...take a picture...and send it directly to the police department."
Seastone said that will help police get better, faster information.
The app also makes it easy for users to request a safe ride or get virtually walked home by sharing their GPS location with a friend.
Seastone said about 40 other campuses around the country are using the LiveSafe app.